Grab your sleeping bag and LET'S GO!!!
Benefits include:
Luxurious Accommodations

5–Star Cuisine

Interaction with our outstanding members, staff and army of volunteers

A behind-the-scenes look at our summer program

The satisfaction of supporting an amazing youth arts organization!
Volunteering is a great way to meet new people, engage in social interaction with people who share your passion for the arts, and support our mission of Building Great People Through Great Performances. The Academy operates on huge network of support from volunteer forces year-round. WE NEED YOU! We welcome alumni, parents of current and former members, friends of The Academy. There are many ways you can contribute to our efforts. See the list of available positions below and find the job that best fits you.
For camps we ask that volunteers work at least 1 full day. On tour we ask you to commit to a full week (Saturday to Saturday). Newbie volunteers should only go on tour for 1 week. Everybody else – feel free to sign up for as much as you want.
Please note that all volunteers will be subjected to a background check prior to volunteering.
Questions? Reach out to our volunteer coordinator, Leslie Cronk – volunteer@arizonaacademy.org!
Volunteer Opportunities
Food Crew (Camps and Tour)
Food Crew volunteers provide food service to the members, staff, and volunteer crew. Cooking is done out of a fully-equipped 40 foot food trailer. Duties include food trailer setup and packing, food preparation, meal serving, cleanup, setup & breakdown of trailer. In a typical day, 3 to 4 meals are served to as many as 200 people.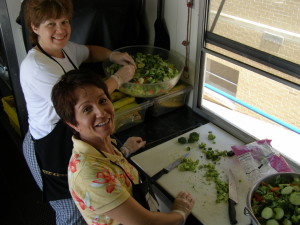 Medical (Camps and Tour)
Medical volunteers provide on-site early medical assessment of injuries/complaints and first aid care. They would consult with doctors and/or emergency medical personnel as needed and help coordinate transportation to a local hospital or urgent care clinic as the need arises. Medical volunteers can be doctors, nurses, EMTs or Paramedics. If you have other specialized medical qualifications such as psychology, dentistry and would like to be added to our medical directory please contact us.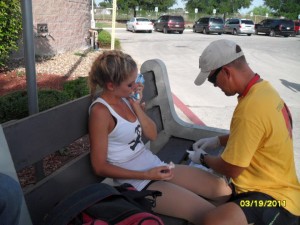 Sewing Crew (Camps and Tour)
Sewing Crew volunteers help with uniform measurements, fittings and alterations during the weekend camps. On tour, the volunteers would handle uniform alterations, repairs and maintenance on a daily basis, and would also handle laundering uniforms periodically.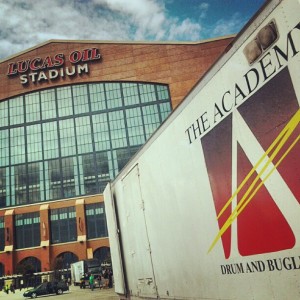 Transportation – (Paid CDL Driver's & Standard License) (Camps & Tour)
For camps and other local events, volunteer CDL drivers help transport the Equipment and Food trailer from the storage site to and from the camp/event location.
On tour, we travel with a fleet of Pick-up trucks and 15-passenger vans (each tows a small trailer) and are in need of drivers. Experience with trailers and night driving is helpful.  Some paperwork and training is required by the USDOT to drive these vehicles. A small stipend is available. Contact Corps Director, Chris Williams, at chris@arizonaacademy.org for additional information.
We also have need for 2-3 CDL drivers to transport our fleet of semis. These are paid positions. Contact Corps Director, Chris Williams, at chris@arizonaacademy.org for additional information.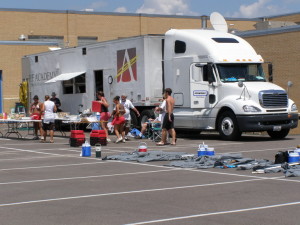 Handy Person (Tour only)
 Handy Man/Woman volunteers help with minor repairs and maintenance of props and equipment. There's always something that needs fixing, or painting, or …
Registration (Camps only)
 Registration volunteers would help with registration activities at the beginning of camps or other events. You would assist the business manager in checking in the members, collecting paperwork, medical information, providing name badges and any other administrative needs at the time.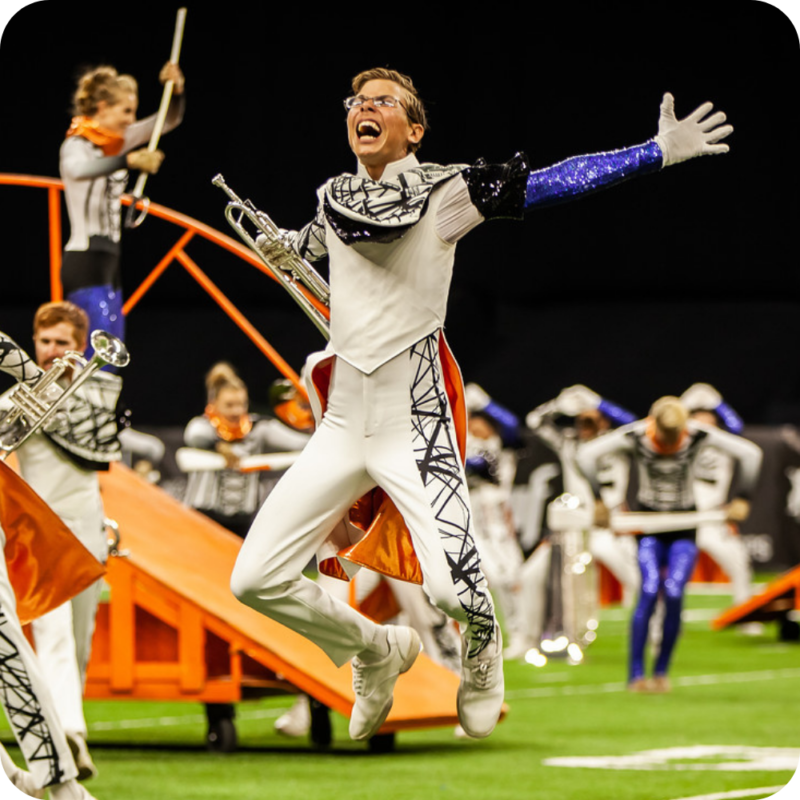 General Questions/Answers About Volunteering on Tour
Sleeping
Volunteers do much of their sleeping while on the road in the volunteer vehicles. (Our longest trips are done overnight.) Once we arrive at a school, volunteers will have separate sleeping areas from members where you can get a few hours of precious floor time.
Showering
Volunteers use the showers/locker rooms at the housing site. There is ample time for volunteers to shower while the corps is practicing. (Adults must shower separately from the members.) Food crew schedules can be a little tricky. Talk to your team about the best time to shower.
Shows
The volunteers receive passes into all shows. Please return these to the designated person or storage area after each show. Do Not store them with your personal belongings – we can't afford to lose them. The next volunteer coming in after you will need it.
Food
Volunteers eat the same delicious food truck cuisine as the members and staff. We ask that volunteers wait until the members go through the line to eat to make sure they all get fed. In the rare instance that we run short of food, we can always find some leftovers or make other arrangements for volunteers. We won't let you go hungry.
Transportation In/Out
If you're flying to meet up with the corps, we can arrange to pick you up and/or take you to the airport. Please make sure that you send your flight info to our travel coordinator at travel@arizonaacademy.org well in advance so we can make sure you are on the pickup/drop off list. If you have another transportation option, such as a family member or friend, that is always appreciated.
Arriving
When you arrive at the corps' location it's best to go to the food truck where someone can put you in touch with a tour administrator. They can help you get settled, stow your bags and direct you to where you'll be working.
Laundry
If you're on the road for a week, you most likely won't need to do laundry. If you're on for longer and need to do laundry, let someone know and we'll make arrangements for you.
Patience & Flexibility
If you've never been on tour before, it can seem a little crazy. Don't worry, that's how it always is. Moving an army off a couple hundred people and 10 vehicles across the country is complicated. Get to know the tour administrators. Ask questions. Follow the crowd. It's a great experience if you keep an open mind and embrace the journey.
Packing Information
What to pack for Tour?
Generally, pack enough clothes for the week. If staying longer than a week, there should be a laundry day opportunity. A rolling duffle or medium suitcase and a carry on is typical and allows for everyone to fit their stuff in the van or other area provided for luggage. (Remember that you'll need to move/carry your luggage often. The less you can get away with the better.) 
Working clothes for the week plus some extras just in case (especially food crew)
A change of shoes in case yours get wet or you need a feetsy break (like sandals)
Toiletries
Shower Towel and shower sandals (it's a school gym so . . . )
Air Mattress and pump
Bedding (Pillow, sheet set, light blanket, it can get cold in some school areas)
Light jacket (even though it is summer, storms can crop up)
Hat, sunscreen, Chapstick (it is summer and can be very sunny in places)
Nicer clothes (shirts/long pants – if you want) for the big shows
Optional things that can help:
Small extension cord (helps if the charge outlet is not near you when sleeping)
A few cheap store pants hangers (great for hanging a towel or wet shirt to dry)
Small flashlight (good for van or middle of the night bathroom trips)
Gold Bond powder or Glide (if you chafe easily)
Earplugs (for van ride, kids up late practicing in hallways )
Travel alarm (unless you have a phone with an alarm clock – mostly for food crew)