Volunteer
Interested in volunteering? Register and join the effort at vol4theacademy.com!
The Academy operates on huge network of support from volunteer forces year-round. We are continually in search for assistance with fundraising events, local camps, and touring throughout the summer. Volunteering is a great way to meet new people, engage in social interaction with people who share your passion for the arts, and support our mission of Building Great People Through Great Performances.
We welcome alumni, parents of current and former members, friends of The Academy. By volunteering you will reap the reward of life-long friendships. It will also give you the opportunity to be a close observer of the development of a championship team.
Starting in December, we have positions open to assist with our AUDITION CAMP:
December 6-8 – All Sections Audition
Casa Grande High School
2020 Monthly Training Camp Volunteer Opportunities
Jan 3-5
Casa Grande HS
Casa Grande, AZ
Full Corps
Jan 31-Feb 2
Vista Grande HS
Brass Only
Feb 28-Mar 1
Casa Grande HS
Brass Only
Mar 27-28
 Shadow Ridge HS
Brass Only
Apr 24-26
Casa Grande HS
Full Corps
May 22-25
Casa Grande HS
Full Corps
Please consider signing up to help out for at least one of the camps.
Typical camp needs:
For Registration, volunteers are needed to help check in members/staff.
For Transportation, volunteers are needed to:
Transport members (using your vehicle) between airport or bus terminal to/fromcamp.
Drive a rental box truck with equipment from Tempe to/from the camp. Regular license is needed.
Drive a rental tractor truck to move the equipment/food trailers to/from camp ‐ a CDL is needed.
For Sewing Crew, volunteers are needed to measure, alter and fit the members with a uniform.
For Medical, one person is needed per shift.
For Food Crew:
For Breakfast/Lunch/Dinner ‐ 6 volunteers are needed per shift.
For Snack‐ 4 volunteers are needed per shift.
For a camp weekend, there are 7 shifts total (Memorial Day weekend there are 10).
Volunteer Opportunities on Tour
Questions? Leslie Cronk, our Volunteer Coordinator can help. Please reach Leslie at volunteer@arizonaacademy.org!
Food Crew
Food Crew volunteers provide food service to the members, staff, and volunteer crew. Cooking is done out of a fully-equipped 40 foot food trailer. Duties include food trailer setup and packing, food preparation and serving and meal cleanup. Food is served to 100-180 people depending on the sections attending camp (brass, percussion, etc.). Additionally, food crews travel with the Academy caravan on the nationwide tour.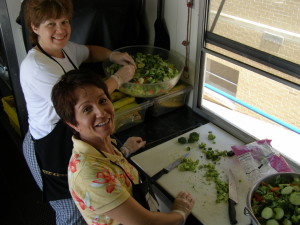 Medical
The medical volunteer on shift would provide on-site early medical assessment of injuries/complaints as well as minor first aid care and spot checks of the members, staff, and volunteers as needed. They would call emergency medical help as needed and help coordinate transportation to a local hospital or urgent care clinic as the need arises. Additionally, a medical person is needed for each week of the nationwide tour.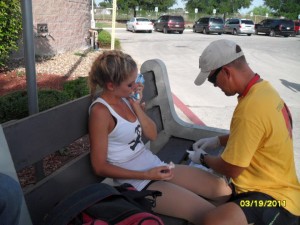 Registration
Registration volunteers would help with registration activities prior to camps or other events. You would assist the business manager in checking in the members, collecting paperwork, medical information, providing name badges and any other registration needs at the time.
Sewing Crew
Sewing Crew volunteers would help with uniform measurements, fittings and alterations during the weekend camps. On tour, the seamstress would travel with the volunteer crew and handle uniform alterations, repairs and maintenance on a daily basis. Seamstress would also be in charge of laundering uniforms on tour when scheduled. Additionally, a sewing crew person is needed for each week of the nationwide tour.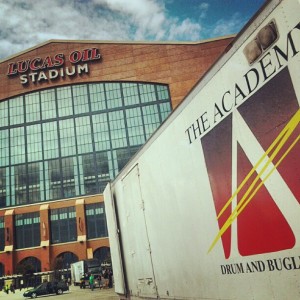 Transportation – (CDL & Standard License)
CDL drivers help transport the Equipment and Food trailer from the storage site to the camp (usually a local high school) or a special event location. Additionally, two CDL drivers are needed to transport these two trailers throughout the nationwide tour. We have a need for standard license drivers to assist us in moving a box truck and volunteer RV throughout the duration of our tour as well.
Transportation – Local
Local transportation volunteers would help with transporting out-of-town members or staff between the airport or bus terminal, to a local camp or housing site. Based on the number of out-of-state people needed transportation, a schedule is arranged for these volunteers with a list of members/staff and their travel information/contact info. Usually, the volunteers are needed to pick up these people at various times in the afternoon or early evening before these camps, and then bring them back to the terminal for their return trip back. Additionally, several utility-type vehicle drivers are needed for each week of the nationwide tour.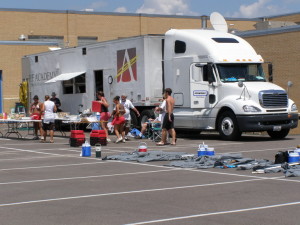 General Questions/Answers About Volunteering on Tour
Packing
See the "Packing Information" section at the end. Generally, pack enough clothes for the week. If staying longer than a week, there should be a laundry day opportunity. A rolling duffle (27″) or medium suitcase and a carry on is typical and allows for everyone to fit their stuff in the van or other area provided for luggage.
Laundry
There are periodic laundry days for the members. Volunteers can also go over to a Laundromat the same day. Volunteers may be able to run out to a local Laundromat at their option if time permits. Lastly, some schools have a laundry available. Feel free to ask the tour director if one is available.
Sleeping
Food Crew/Medical/Uniform volunteers Do much of their sleeping while on the road in the volunteer vehicles. Once we arrive at a school, volunteers will have separate sleeping areas from members and drivers will have a specific area so that they can get the rest they need.
Showering
Volunteers use the same school showers as the members, And the tour managers will let you know when and where it is appropriate to shower. All volunteers and administrative staff will shower at separate times from the members of the Corps.
Shows
The volunteers get into all the shows free. There are a limited set of DCI badges on lanyards that are kept with the tour admin or in a designated place. Please return these to the designated area after each show. Please do not store these away, lose them, or take them home and do not offer these to friends or family. We cannot get replacements for these.
Eating
The volunteers eat the same food as the members. We ask that volunteers wait until the members go through the line to eat. The food crew will try very hard to ensure portion control for members, so everyone can eat but there are rare cases where the food runs out. Food crew can always pull out left-over's or make up extra food to feed volunteers, or worse case they can swing by fast food. Members have no other options so let's make sure they eat.
Transportation In/Out
Please make sure that you send your flight info to our travel coordinator at Travel@arizonaacademy.org so we can make sure you are on the pickup/drop off list. You should have our email. Feel free to double check with the travel coordinator before you fly out and the tour director while on tour before you leave. Scheduling airport runs is very challenging so please bear with the tour admin. If you have a way to get transportation such as family or friend that can be helpful in relieving the drivers.
Arriving
OK – so things may be a little chaotic if you somehow get there at a busy time. If you manage to get a ride back to the housing site, if you are food crew head to the food truck or find a tour admin to get directions as to what is going on and what to do with your belongings. Drivers should check in with the driver they are replacing or with the tour admin for a hand over of the driver responsibility.
If you arrive at the show site, go to the parking area to find the Academy area where the vehicles are at. Hopefully you get there before they head into the show. You should get the tour admin phone info before you head out for tour. (see tab called Contacts) You may need to contact someone to get into a vehicle.
Issues
This last one is mainly about how to handle any issues you encounter. Things will not always go perfectly so in the event an issue arises please be patient and hopefully the tour admin can help resolve the issue. Most issues can be resolved. There may other volunteers that come to you with issues, please refer them to the tour admin on duty. Remember it is a tense time for everyone, tight working quarters and long hours. It can really be a great experience if you keep an open mind and embrace the journey.
Packing Information
What to pack for Tour?
Working clothes for the week plus some extras just in case (especially food crew)
A change of shoes in case yours get wet or you need a feetsy break (like sandals)
Laundry sheet(s)- like the ones the kids bring, has detergent and can be thrown in dryer
There may be laundry in school that sometimes we can use to get a fresh set of clothes
Toiletries
Shower Towel and shower sandals (it's a school gym so…)
Air Mattress and pump (we will usually have spare ones but maybe check first)
Bedding (Pillow, sheet set, light blanket, it can get cold in some school areas)
Light jacket (even though it is summer, storms can crop up)
Hat, sunscreen, Chapstick (it is summer and can be very sunny in places)
Nicer clothes (shirts/long pants – if you want) for the big shows
Optional things that can help:
Small extension cord (helps if the charge outlet is not near you when sleeping)
A few cheap store pants hangers (great for hanging a towel or wet shirt to dry)
Small flashlight (good for RV or for schools when hard to find lights or bathroom trips)
Gold Bond powder or Glide (if you chafe easily …)
Earplugs (for RV ride, kids up late practicing in hallways – food leads use wisely – don't oversleep)
Travel alarm (unless you have a phone with an alarm clock – mostly for food crew)