Dear Academy Fans,
The Academy has reserved blocks of tickets for the Southwestern Regional Championship in San Antonio, Eastern Championship in Allentown, and for all three thrilling days of Finals Week in Indianapolis. These tickets are better seats than you would be able to get on your own and you would have the added bonus of sitting with The Academy fans and families!
Ticket pricing is the same whether you purchase through The Academy, DCI or directly from Ticketmaster. The Academy does receive a portion of the ticket price when you purchase in our blocks. We appreciate your support.
You will be purchasing directly from Ticketmaster. Please follow the links and use the password to access tickets in The Academy ticket blocks for these great shows. There is also information on hotels for Finals week in Indianapolis included below.
See you at the shows!   Questions? email us at jalan@arizonaacademy.org
The Academy

DCI Southwestern championship
at the alamodome | San Antonio, TX

Saturday, July 22, 2023
Super Premium Seats – $79
50 tickets in section 111, Rows 16-20
Use the link below to access seats for San Antonio.
PASSCODE: TADBC
DCI Southwestern tickets here
DCI eastern championship
at j. birney crum stadium  |  allentown, pa

Friday & Saturday, august 4-5, 2023
20 tickets in Section J – $49 per night
(The Academy performs Friday night)
Use the links below to access seats for Allentown.
PASSCODE:  TADBC
dci eastern tickets (friday)
dci eastern tickets (saturday)
DCI world championships
at lucas oil stadium | indianapolis, in

thursday, Friday, & Saturday, august 10-12, 2023
Prelims Thursday, August 10
32 tickets in Section 141 – $79
18 tickets in Section 142 – $79
Semi-Finals Friday, August 11
50 tickets in Section 243 – $109
25 tickets in Section 641 – $99
Finals Saturday, August 12
50 tickets in Section 443 – $169
25 tickets in Section 639 – $139
Use the links below to access seats for World Championships.
PASSCODE: TADBC
world championships tickets - Prelims
world championships tickets - Semi-finals
world championships tickets - finals


The Academy Hotel Block information
DCI World CHampionships
The Academy has blocked out hotel rooms available to be reserved at reasonable rates.
Use the access code: DCI23TheAcademy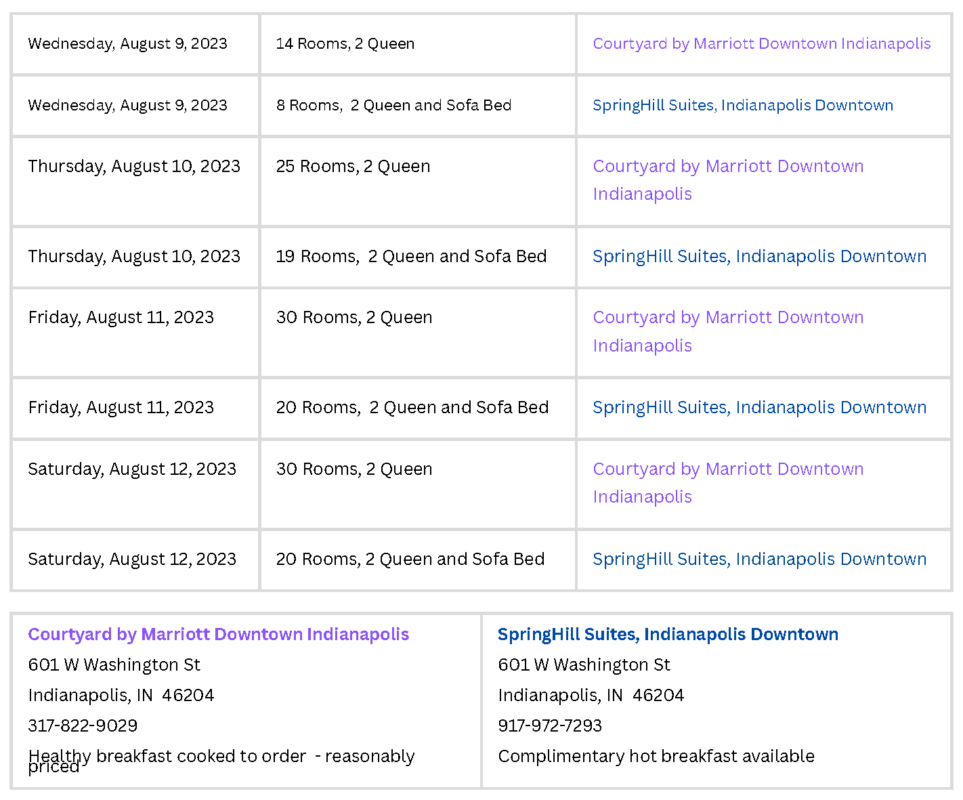 reserve your hotel rooms here
Enter the access code: DCI23TheAcademy
to receive the discounted rates.
Book reservations online at the link above. To book by phone, call 317-262-8191 Monday-Friday 8:30am to 5:00pm.
The last day to make your reservations is 6/21/23 @ 5:00pm EST. Un-booked rooms will be released into the general inventory at that time.
For questions on hotels contact Visit Indy Housing Bureau at 317-262-8191 or email at housing@visitindy.com.