Dear Academy Fans,
While the major event block sales have now closed, Hotel blocks are open for a short time.  Follow the instructions below to book your hotel room.
Questions? email us at jalan@arizonaacademy.org
The Academy

The Academy Hotel Block information
DCI World CHampionships
The Academy has blocked out hotel rooms available to be reserved at reasonable rates.
Use the access code: DCI23TheAcademy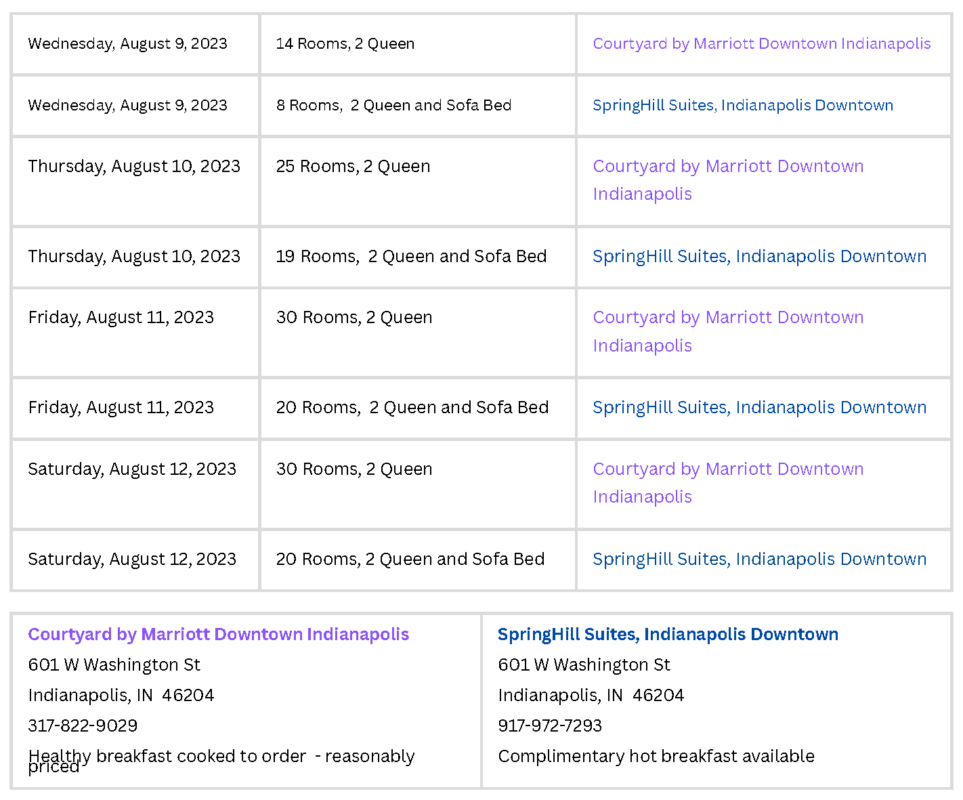 Enter the access code: DCI23TheAcademy
to receive the discounted rates.
Book reservations online at the link above. To book by phone, call 317-262-8191 Monday-Friday 8:30am to 5:00pm.
The last day to make your reservations is 6/21/23 @ 5:00pm EST. Un-booked rooms will be released into the general inventory at that time.
For questions on hotels contact Visit Indy Housing Bureau at 317-262-8191 or email at housing@visitindy.com.
reserve your hotel rooms here

DCI Southwestern championship
at the alamodome | San Antonio, TX

Saturday, July 22, 2023
Super Premium Seats – $79
50 tickets in section 111, Rows 16-20
Use the link below to access seats for San Antonio.
PASSCODE: TADBC
DCI Southwestern tickets SALES CLOSED
DCI eastern championship
at j. birney crum stadium  |  allentown, pa

Friday & Saturday, august 4-5, 2023
20 tickets in Section J – $49 per night
(The Academy performs Friday night)
Use the links below to access seats for Allentown.
PASSCODE:  TADBC
dci eastern tickets closed
DCI world championships
at lucas oil stadium | indianapolis, in

thursday, Friday, & Saturday, august 10-12, 2023
Prelims Thursday, August 10
32 tickets in Section 141 – $79
18 tickets in Section 142 – $79
Semi-Finals Friday, August 11
50 tickets in Section 243 – $109
25 tickets in Section 641 – $99
Finals Saturday, August 12
50 tickets in Section 443 – $169
25 tickets in Section 639 – $139
Use the links below to access seats for World Championships.
PASSCODE: TADBC
world championships tickets closed