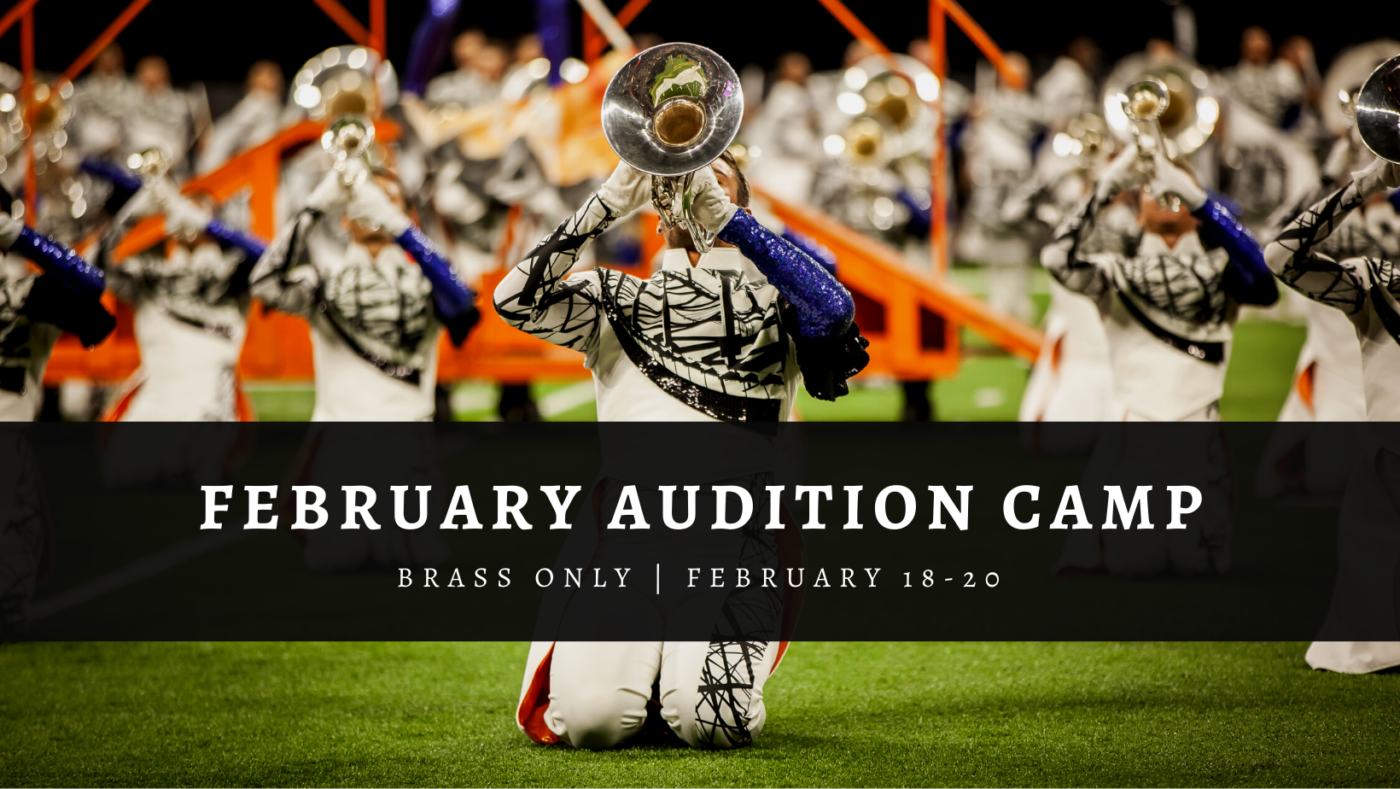 February 3-day Audition Camp 

Brass Only
Join us at the next weekend Audition Camp to be held on February 18-20, 2022 at Casa Grande Union High School.
The February camp will serve as an additional audition opportunity for new prospective members, and is an open call to anyone interested in auditioning for the corps for the first time.
Participants simply register and pay the $150 fee, which will include your overnight housing, transportation to and from Phoenix Sky Harbor Airport (if needed), instruction, and all of your meals and materials for the camp.  Prior to the camp, you will be contacted to RSVP and confirm your attendance as well as offering the opportunity to enter your airport transportation information.   Also before the camp you will receive detailed information as to the directions, schedule, requirements, packing list, and other essential information for your preparedness. 
During the camp, individuals who are interested in auditioning for the 2022 corps will be evaluated with a staff member and have the prospect of being offered a Membership position or being elevated to "Callback" status, invited to return at a later camp for further evaluation. Participants in the February camp will need to officially register and pay for the audition event prior to attending, which will give the student access to the detailed audition materials and exercises to prepare.
February 18-20, 2022
Casa Grande High School
2730 N. Trekell Rd.
Casa Grande, AZ 85122 – Map
The tentative schedule will be something like this:
Friday
5:00 PM – Registration Opens
7:00 PM – Orientation & Rehearsals begin
11:00 PM – Snack/Showers
12:30 AM – Lights out
Saturday
8:00 AM – Breakfast
9:00 AM – Rehearsals
1:00 PM – Lunch
2:00 PM – Rehearsals
6:00 PM – Dinner
7:00 PM – Rehearsals
10:00 PM – Snack/Showers
11:00 PM – Meeting
12:15 AM – Lights out
Sunday
8:00 AM – Breakfast
9:00 AM – Rehearsals
12:00 PM – Lunch
1:00 PM – Rehearse
3:00 PM – Load up/clean up
4:00 PM – Dismiss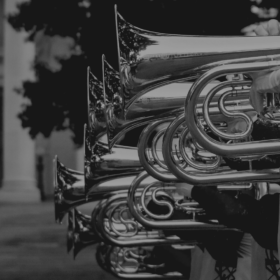 What will the Auditions entail?
Throughout the camp, participants will be working within their sections to learn the techniques of The Academy with the headline of growing the individual performer throughout the weekend. While most of the camp will be in group settings, typically there will be a short individual audition provided by a staff member. The staff member will likely ask a few brief questions about each performer's experience, why they are interested in the drum and bugle corps activity, and why they are interested in The Academy experience. Next, the performer will demonstrate their skills on their equipment with content from the audition materials, and/or material that the performer has prepared. Auditions may be video recorded for other staff and caption heads to review at a later time and feedback from the performance will be given before returning to the group sessions. Later, the staff will determine what status to move the performer to. Notice of this assignment will typically be given by email later that week.
What to Wear and What to Bring
Participants in the performance sessions should be dressed for physical activity including marching, running, stretching, movement, etc. Tennis shoes and loose, comfortable athletic clothing is required for participation. No sandals, jeans, or heavy clothing, please. Bring your own water jug to remain hydrated and arrive having had a substantial meal to last for the duration of the clinic. Also, be prepared for potential cold weather during the evening hours as some segments will likely be held outside.  Bring extra clothes that you can layer on and off as the temperature fluctuates outdoors.  Bring your own water jug to remain hydrated!  A complete packing list will be provided to you prior to the move-in audition camp, for those attending.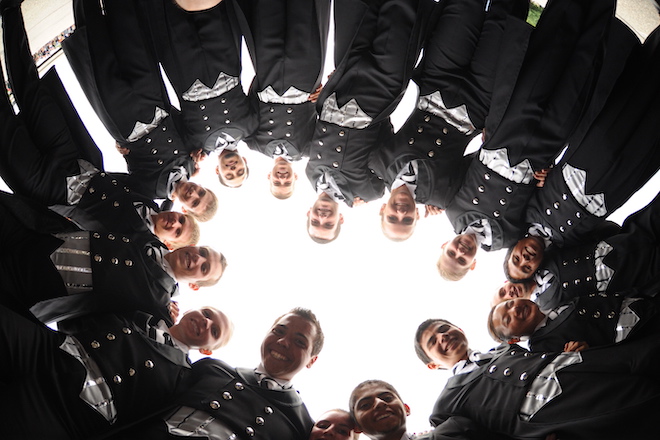 Brass
Available to you upon registering online will be technical exercises and other music, which should be prepared by each applicant for the brass auditions. This material, and the other required music will make up most of the content for the brass auditions.  In addition, a good portion of the experience will be physical in nature (exercising, marching, etc.).   To ensure that there are enough instruments to go around, All brass players should bring their own marching instruments to rehearse/audition with.  If attending the Arizona Audition camp, and are unable to bring a marching instrument for auditions, we will be able to have an instrument available for you.
Register to Audition – Payment for the Registration Fee ($75 Registration Fee waived for a limited time only for early registrants!) and Audition Camp Fee ($150) can be completed online here.  Once registered, the participant will have access to the audition materials, letters from staff, technique manuals, music, etc.
2022 corps information – get more details and updates about the 2022 corps, audition dates, location, and other info by visiting the corps web page here.
COVID-19 MITIGATION
(Updated regularly)
Vaccination – As a reminder, all individuals must be fully vaccinated to participate in in-person events.  Be sure to have uploaded your vaccination record prior to the camp.
Pre-Arrival Tests – In order to provide an additional layer of prevention, we are requesting that each participant be tested within 72 hours of arrival for this camp.  PCR tests are preferred, however because these tests are currently difficult to schedule, and results are delayed, a rapid at home test can be done. Be sure to schedule your PCR test or purchase your at home test now in order to not have any issues as the camp approaches.  If you are choosing the at home test, please take the test just prior to departing for the camp.
On-Site Testing – We will be testing each individual upon arrival at check-in with our supply of rapid tests.  Upon arrival, report directly to the registration room to check-in.  

IMPORTANT – Any individual who tests positive at any point in the camp will not be allowed to enter/re-join the camp and need to secure transportation and/or housing (if needed) on their own.  Please be sure to test before you leave for camp to avoid any issues.  

Mask Wearing – Be aware that we will be ramping up our masking protocol during this time and wearing masks nearly the entire time during this weekend.  To maximize effectiveness, be sure your mask is well-fitting.  It is recommended to wear N95 or KN95 masks, particularly during times of extended interaction and during your time of travel for those of you using public transportation to get to camp.  
Rehearsal Settings – We are fortunate to have a desirable weather forecast, allowing us to do much of our rehearsing outdoors.  Please be prepared with layered clothing for the cooler parts of the day, and bring a hat and sunscreen! 
Distancing/Cohorts – We will be doing our best to space out individuals throughout the sleeping areas and keep the sections within their groups during this camp.  
Other – We will be informing everyone of any other procedures relative to the camp location throughout the camp.