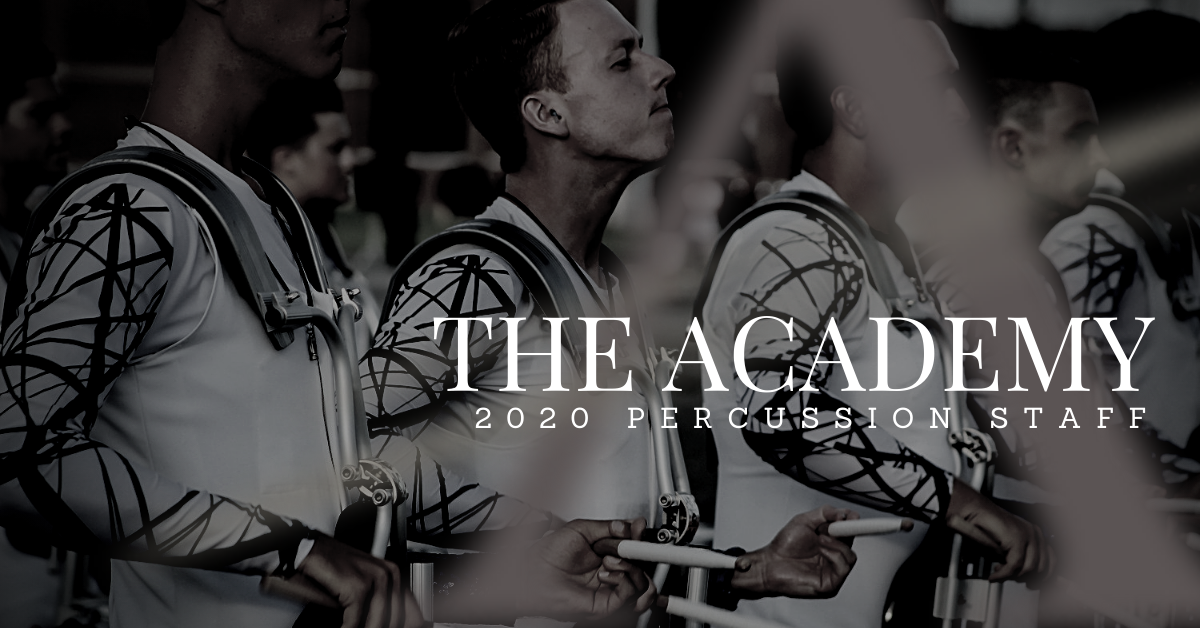 Cisco Hance
Percussion Caption Manager and Arranger
Osman "Cisco" Hance currently resides in Port St. Lucie, FL. He has been involved with DCI since 2003. He started marching with Magic of Orlando under the instruction of Colin McNutt and Brian Tinkel. In 2005 he joined Carolina Crown and acted as center snare and percussion section leader from 2005-2007. While at Crown he was under the instruction of Brian Tinkel, Jeff Queen, Ian Hale, Lee Beddis, Zach Shlicker, and Luis Rivera. Cisco has also been teaching WGI "Stryke Percussion" since 2008. Stryke has placed in the top ranks at WGI finals for several years, receiving the bronze medal in 2008, and silver in 2010 and 2011 in the Independent Open Class. Now in the Independent World Class, Cisco serves as the group's and Battery arranger and Programming Associate.
In 2009, Cisco worked as the snare tech for the Teal Sound Drum and Bugle Corps, where he helped the corps successfully transition into DCI's World Class. Subsequently, Cisco became the snare technician for the Madison Scouts Drum and Bugle Corps. Today, Cisco serves as the Percussion Director/Arranger for the Park Vista Marching Band in Lake Worth, Florida as well as the Director of Percussion at West Broward High School in Pembroke Pines FL. For The Academy Drum and Bugle Corps he served as the Percussion Coordinator in 2014, as Percussion Manager in 2016, and has served as Percussion Caption Head, since 2017.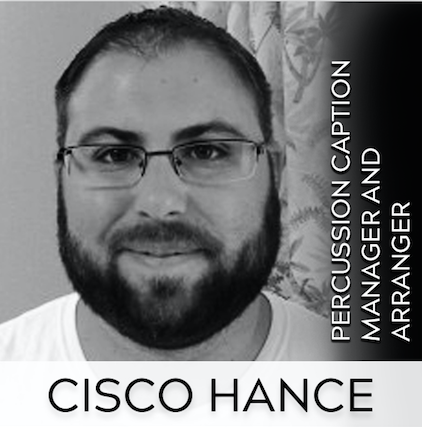 Thomas Kurator
Front Ensemble Coordinator
Thomas Kurator is an active percussion educator from the Inland Empire area of southern Californai, and is excited to be joining the staff this year for his first season with The Academy.
His past marching experience includes the Blue Devils Drum & Bugle Corps (2013-2015) and the Blue Stars Drum & Bugle Corps (2016). Additionally, he has performed with RCC Marching Tigers, and eventually RCC Indoor Percussion (2014-2017), where he served as the section leader for his last two seasons.
His teaching experience includes Vanguard Cadets Drum and Bugle Corps, Blue Stars Drum and Bugle Corps, and Vessel Indoor Percussion, as well as various high school and middle school marching ensembles in the Southern California area.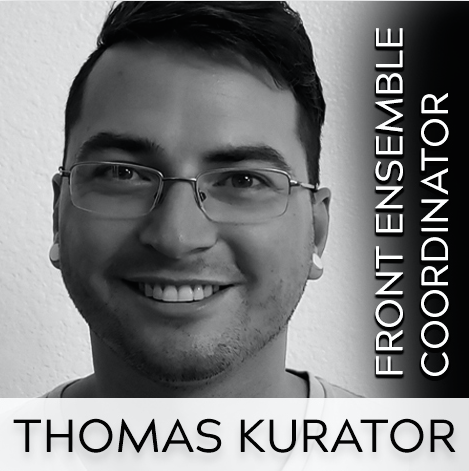 Rudy Flores
Battery Coordinator
Rudy Flores has an extensive percussive background that ranges from jazz and orchestral ensembles to marching bands and drum corps. He studied Music Education at Western Connecticut State University and has been involved in the activity for more that two decades.
As an educator since 1998, Rudy has taught, consulted, and arranged for many groups including Connecticut Hurricanes Senior Drum and Bugle Corps, Kilties Senior Drum and Bugle Corps, and WGI Independent World Finalist STRYKE Percussion. He was also the Program Coordinator/Battery Arranger/Visual Designer for John I. Leonard High School Winter Percussion. Currently, Rudy is the Percussion Caption Head for Jupiter High School.
Member/Percussion Captain, Norwalk High School Marching Band: 1995-1998
Member/Drumset performer, Norwalk High School Big Band and Secondary Jazz Band
Member/Drumset performer, Norwalk High School Jazz Combo
Member/Drumset performer, Norwalk High School theater department
Music Education Studies Western Connecticut State University 1998-2000, which included concert performance studies as well jazz/drumset performance studies
Member of Ice Storm Winter Percussion: 1998
Member/Percussion Captain/Snare Technician, Connecticut Hurricanes Senior Drum and Bugle Corps: 1995-2001
Member Crossmen Drum and Bugle Corps: 2001, 2002
Percussion Instructor, Masuk High School: 1998-2000
Percussion Director, Brien McMahon High School: 2000-2003
Battery Arranger/Percussion Director, Santaluces Community High School: 2003-2005
Battery Arranger, Santaluces Community High School: 2005
Percussion Instructor, John I. Leonard High School Marching Band: 2004
Snare Technician, STRYKE Percussion: 2004-2005
Battery Arranger/Associate Director STRYKE Percussion: 2006-2007
Battery Arranger STRYKE Percussion: 2008
Battery Arranger/Percussion Director,
Olympic Heights High School Marching Band: 2005-2006
Batter Arranger/Percussion Director, John I. Leonard Marching Band: 2007, 2008
Battery Arranger/Percussion Director/Visual Design/Program Coordinator, John I. Leonard Winter Percussion: 2007, 2008
Drumset performer with the bands Tse and Taste Bud: 2008
Batter Arranger/Percussion Director, Santaluces Marching Band: 2009-2011
Battery Arranger/Percussion
Director/Visual Design/Program Coordinator, Santaluces Winter Percussion: 2009-present
Battery Director, Jupiter High School: 2011
Percussion Director, John I. Leonard Winter Percussion: 2011-2012
Battery Technician, STRYKE Percussion: 2011-present
Independent Judge, FMBC: 2008-present
Visual Arranger, Jupiter High School Winter Percussion: 2016
Currently a Vic Firth Educator
Battery Coordinator Park Vista High school 2017
Percussion Caption Head Jupiter High School
Battery Coordinater Stryke Percussion 2017
Battery Coordinator Academy Drum and Bugle Corps. 2017
Battery Caption Head, STRYKE Percussion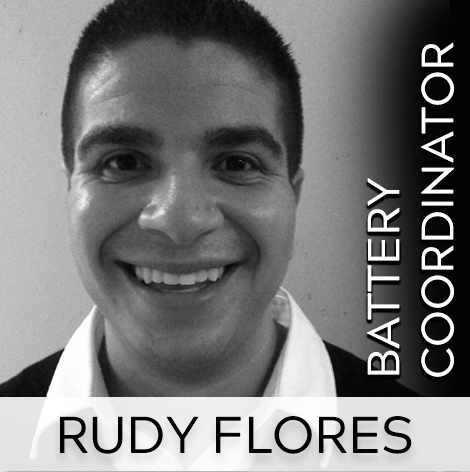 Rachel Leong
Front Ensemble Instructor
This is Rachel's 1st year on staff with Academy. A native of Portland, Oregon, she graduated in 2019 from Portland State University with a BS in Business Administration: Management and Leadership. Rachel recently moved to California to pursue career opportunities in management and consulting. Her performance experience includes the Oregon Crusaders (2013, 2014, 2016), Oregon Crusaders Indoor (2015, 2016, 2017), the Blue Stars (2018), and Pulse Percussion (2018, 2019).
Rachel is a member of the Vic Firth Education Team and currently teaches at Great Oak High School and POW Percussion. Rachel has instructed and consulted for numerous high schools within the Pacific Northwest region including Mountainside HS, Southridge HS, Beaverton HS, Evergreen HS, Lincoln HS, and Westview HS.
Rachel lives in Temecula, CA with her beloved orange cat, Monica and dog, Honey.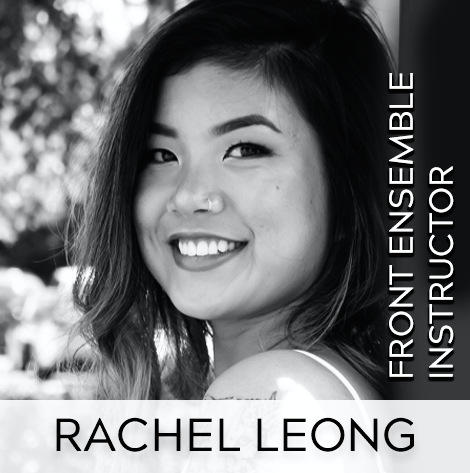 Nestor "Rickie" Santiago
Front Ensemble Instructor
Nestor "Rickie" Santiago attended the University of Florida and was in the studio of Dr. Ken Broadway. While there, Nestor was the principal percussionist for the University's Wind Symphony, under the direction of Dr. David Waybright. Rickie has performed at the Midwest Clinic, the American Bandmasters Association convention as well as with the Gainesville Orchestra, Ocala Symphony Orchestra, and the American Chamber Winds. Nestor is an active educator in the Gainesville area, teaching percussion at many area middle and high schools as well as holding a private studio.
Under his direction, the Buchholz High School Percussion Ensemble has consistently earned superior ratings at the FBA District and State Solo and Ensemble Music Performance Assessments and has performed at the 2017 FMEA Professional Development Conference, the 2018 McCormick Marimba Festival at the University of South Florida, the 2018 University of Florida Percussion Festival, and will be performing at the 2020 Music for All Sandy Feldstein National Percussion Festival. Additionally, Nestor in entering his third season as the Front Ensemble Coordinator for Infinity Percussion, a consistent World Class Finalist at the WGI World Championships. Mr. Santiago is a Vic Firth, Mike Balter, and Zildjian endorsed Educational Artist.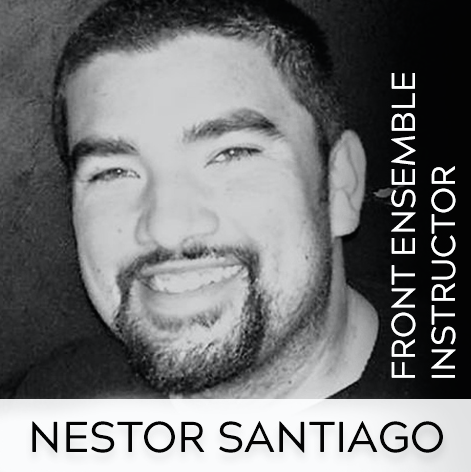 Nick Quan
Front Ensemble Coordinator
Nick is a composer and educator who currently resides in Mira Loma, California. His performing experience includes six years of both Drum Corps International and Winter Guard International. His marching career includes Velvet Knights Drum and Bugle Corps in 2010, City Sound Drum and Bugle Corps in 2011, Gold Drum and Bugle Corps from 2012 through 2015, as well as Orange County Independent and Broken City from 2011 through 2016.
His previous teaching experience includes a variety of scholastic and independent programs across Southern California and is currently the Front Ensemble Coordinator for Vessel Drum and Bugle Corps, Front Ensemble Arranger for Meraki Percussion, and a percussion instructor for Glendora High School, Los Osos High School, and Arcadia High School. He has also worked with independent groups such as Orange County Independent, Élan Percussion, Odyssey Indoor Percussion, and Gold Drum and Bugle Corps. Nick proudly endorses Vic Firth Sticks and Mallets and Zildjian Cymbals.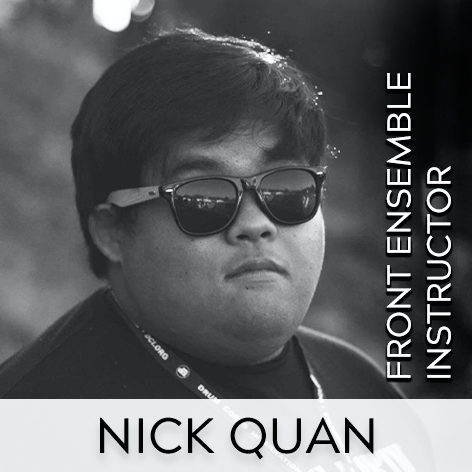 Raychel Taylor
Front Ensemble Instructor
Raychel Taylor is an ardent educator, performer, and arts entrepreneur in northern Illinois. Motivated by her passion to provide young female percussionists with direct access to female mentorship, Raychel created "Girls March," an organization that advocates for women in the marching arts. Her vision is realized through music and leadership seminars with some of the most influential women in the activity. She teaches percussion lessons, is a front ensemble and drumline instructor for a variety of high schools west of Chicago, and has been a clinician for events such as MalletLab and Percussive Arts Society (PAS) Days of Percussion. Raychel performs regularly as a member of berimbau world music sextet Projeto Arcomusical.
Raychel briefly taught the percussion ensembles for the Chicago Youth Symphony Orchestra and served in an administrative role for the Elgin Youth Symphony Orchestra. In the summer of 2019, Raychel worked as Percussion Manager for the National Youth Orchestra of the United States of America.
Though she is a native Californian, Raychel earned Bachelor of Music degrees in Percussion Performance and Music Theory from the University of North Texas and a Master of Music degree from Northern Illinois University. Her drum corps experience includes Sacramento Mandarins (2008-2009), Phantom Regiment (2010), which earned the Fred Sanford Award for High Percussion that year, and the Santa Clara Vanguard (2011).
Raychel serves on the PAS Diversity Alliance and proudly endorses Innovative Percussion and Remo products.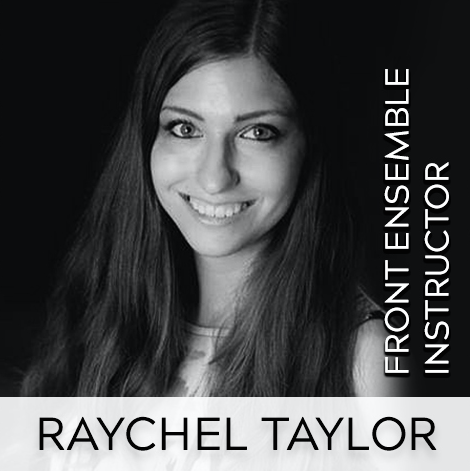 Sarah Vasquez
Front Ensemble Instructor
Sarah Vasquez is a percussionist and music educator in the East Texas area. Originally from El Paso, Texas, she moved to East Texas to study percussion under Dr. Brian Zator at Texas A&M University – Commerce. She is currently in her last year of pursuing a Bachelor of Science in Music Education from TAMU-C where she has been a part of the wind ensemble and percussion ensemble(s).
Sarah has been teaching in the DFW area for the past two years. Last year she taught at Paris High School where she was the front ensemble technician for the fall marching season and WGI season. Sarah currently works with the front ensembles at Royse City High School and John Horn High School. Her marching experience began in 2015 where she played marimba at Academy Drum and Bugle Corps. She continued by performing in the front ensemble at Crossmen Drum & Bugle Corps from 2016-2017, and The Blue Devils from 2018-2019. Sarah recently has been selected to participate in the Percussive Arts Society Collegiate Percussion ensemble which will be performing at PASIC in November 2019.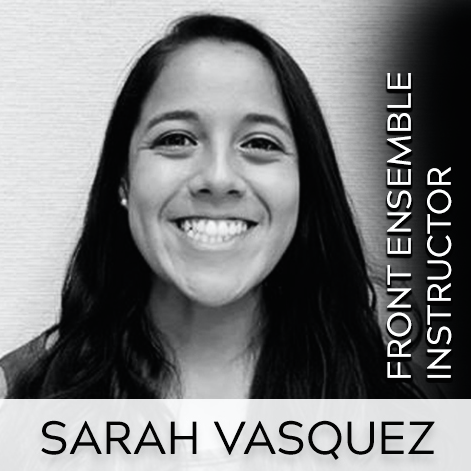 Corey Watkins
Battery Instructor
Corey Watkins is a freelance educator, percussionist, and arranger from Asheville, North Carolina. His marching career began in the Western Carolina University "Pride of the Mountains" marching band from 2015-2017, where he played bass 2. His independent marching experience started in 2017 playing top bass for Atlanta Quest. He went on to play bass 4 for his DCI age-out with The Cadets Drum & Bugle Corps. Corey marched his WGI age-out season as bass 2 for Matrix World in 2018. Ever since his marching career has concluded, he's been teaching the bassline at Spartans Drum & Bugle Corps, who recently were the 2019 DCI Open Class Champions. He was also the bass tech for Cap City Percussion – a consistent WGI finalist ensemble – during the 2019 season. Corey currently resides in Dayton Ohio, where he is the battery coordinator for Bellbrook High School.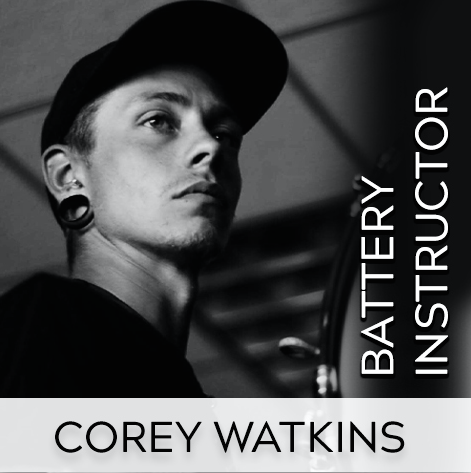 Giovanni Pagliaro
Battery Instructor
Giovanni Pagliaro is a full-time percussion educator and recent graduate from Florida State University with a bachelor's in Economics. He began his performing arts career with STRYKE Percussion in 2013 and marched with the ensemble through 2015, helping the group win its first fan favorite award. Throughout his time as a performer, Gio went on to march for world renown ensembles Carolina Crown from 2014 to 2015, & Rhythm X in 2016.
He has also performed with the Miami Marlins drumline and the Miami FC drumline, both in association with STRYKE Entertainment as well as performing professionally at Hershey Park as a drummer for the Cocoa Rhythm Factory in association with Windish Music & Entertainment. 
Gio has taught battery percussion for a number of years at local South Florida High Schools/Universities that include: West Broward High School, Stoneman Douglas High School, Florida International University, Coral Glades High School, & Doral Charter Prep. In addition, he was battery arranger for Everglades High School, Spanish River High School, as well as for STRYKE Entertainment, and Windish Music & Entertainment. He has also been on staff with STRYKE Percussion since 2017 as a battery instructor, specializing in snare drum instruction. 
This will be Gio's second year with the Academy.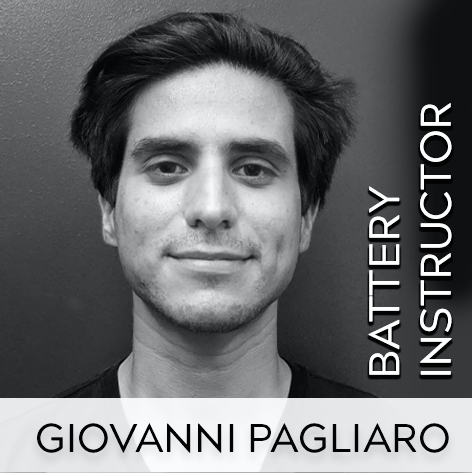 Luke Vogt
Battery Instructor
Luke Vogt is a percussionist and educator originally from Phoenix, Arizona. Luke holds a bachelor's degree in Music Education from Arizona State University and a master's degree in Percussion Performance from Texas Christian University. During his time at Texas Christian University, Luke performed with the TCU Percussion Orchestra, Steel Band, and Jazz Band as well as performing as a featured concerto soloist with the Texas Christian University Wind Symphony. In the area of marching percussion, Luke has performed with the Blue Knights Drum and Bugle Corps and The Academy Drum and Bugle Corps where he has been on staff as a battery instructor since 2016. Since moving to Texas in 2016, Luke has worked with several high school and independent ensembles in the DFW area as well as composed for marching percussion ensembles throughout the country. Luke currently resides in Round Rock, TX working as a freelance musician and private-lesson teacher in Leander ISD.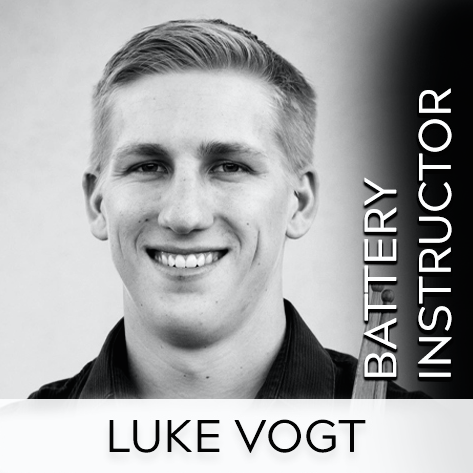 Noah Cole
Battery Instructor
Noah Cole has a bachelor's in History from Florida State University and is currently pursuing a Master's at the same institution.  Born and raised in Florida, he is originally from Orlando and now resides in Tallahassee for school. His academic interests primarily focus on medieval and early-modern intellectual history in Europe. Specifically, he is focusing on conceptions of sovereignty, religion, power and obedience, and their intersections in areas like cannon law, civil science, and humanism.
Noah is thrilled to join the Academy for his third season. He has spent time teaching around Florida for many years, including the Open Class WGI Finalist Ancient City Ensemble. Noah began his drum corps career with the Sun Devils Drum Corps in 2013 and 2014, and made the jump to world class when he marched the Colts Drum and Bugle Corps in 2015 and 2016. He aged out with the Cadets in 2017. In addition to this, he marched Ancient City Ensemble in 2014 and Atlanta Quest 2015 and 2016.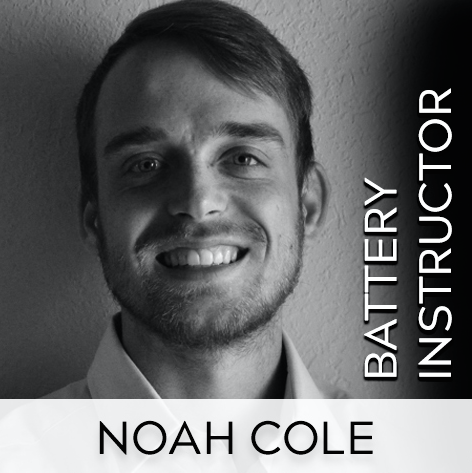 Sean McNulty
Battery Instructor
Sean McNulty is a percussion educator currently residing in Jupiter, Florida. He earned his Bachelor's degree in History from the University of Central Florida in 2013. While earning his degree, Sean was a member of WGI's STRYKE Percussion from 2011-2014. Sean currently works as Battery Coordinator for STRYKE Percussion World, in addition to working with many High School Marching Bands in South Florida. These Marching Band's include Park Vista HS in Lake Worth, Florida where he works as Battery Coordinator, Seminole Ridge HS in Loxahatchee, Florida where he works as Percussion Director, and Jupiter HS in Jupiter, Florida where he is a Percussion Consultant.  Sean is excited to be returning for his third season with The Academy, having been a Battery Consultant in 2018, and a Snare Technician in 2019.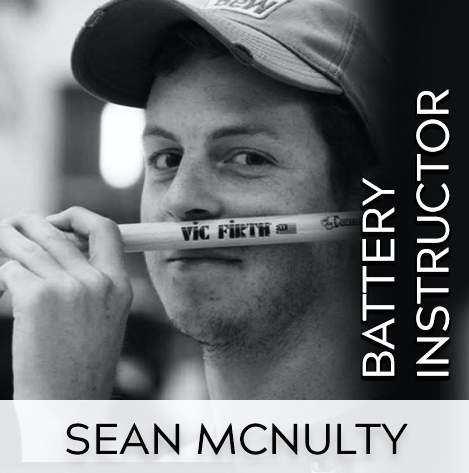 Miles Kenobbie
Battery Instructor
Miles marched at The Academy Drum and Bugle Corps for two years back in 2014 & 2015. His other marching experience consists of three years with Breakthrough Indoor Percussion (2013-2015), two years with the Sun Devil College Marching Band (2014 & 2015), four years with Riverside City College (2016-2019), and two years with The Blue Devils Drum and Bugle Corps (2016 & 2017). He graduated from ASU with a Digital Culture (Music Concentration) Major in 2018. He has taught at DCI groups such at The Academy and The Cavaliers, is currently teaching at Arizona State University, is the battery coordinator for Breakthrough Indoor Percussion, and is also the Percussion Caption Head at Gilbert High School. Besides playing and teaching drums, Miles enjoys creating electronic music in his spare time, in hopes of starting an electronic music composition/production career.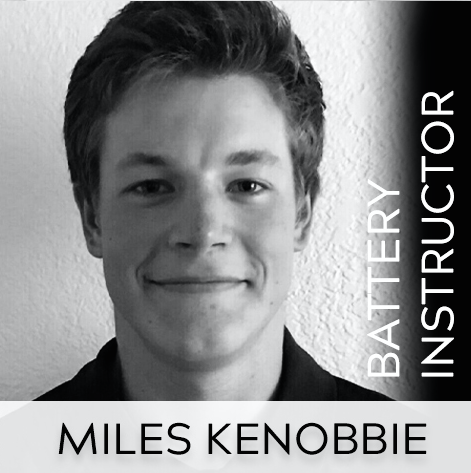 Nick Angelis
Percussion Instructor
Nick Angelis is in his 15th year and is The Associate Band Director of Bands for The University of Cincinnati Bearcat Bands.
He has been involved in the drum corps activity since 1979. Throughout 16 consecutive seasons, he marched with The Satellites from Leicester, MA from 1980-87, The Spartans from N.H. 88 and 89, The Boston Crusaders 90-91, The Santa Clara Vanguard 1992, The Star of Indiana 1993, Star of Indiana's Brass Theater 1994, and aged-out of The Blue Knights from Denver, Col. in 1995
As a marching performer, he was crowned The 1992 Drum Corps International Rudimental Snare Drum World Champion, 1993 Drum Corps Midwest Champion and was a part of the legendary 1993 Star of Indiana's World Champion percussion section.
Nick has taught and or written, for numerous marching bands and drum corps all around the country including:
– 2016-19 Cincinnati Tradition DCA Two time Class A Champion Program Coordinator/ Staff Coordinator
– 2015/16 Tates Creek Independent World Indoor Battery Arranger/ 17'Assistant Director
– Madison Scouts 2010-11 Percussion Caption Head
– Blue Stars 2008-09 Music Ensemble consultant
– Blue Knights 1996, 2003 Consultant
– Boston Crusaders 1997 Percussion Caption Head
– Crossmen Drum and Bugle Corps TX.
– Spartans of N.H.
– Troopers Caption Head/Arranger 2005
– Spirit of J.S.U. Co-Caption Head and Co-Arranger W/ Mr. Clint Gillespie 2004-05
– Caption Head/Arranger-Colts Drum and Bugle Corps from Dubuque, Iowa 2006
– University of Massachusetts at Amherst Percussion Instructor 1995-1999, 2002
– 4 Time BOA Finalist and AAA National Champion, Kennesaw Mountain H.S.               Co-Percussion Arranger W/ Mr. David Starnes
– BOA 2004 Atlanta Regional Finalist Harrison H.S. Arranger
– BOA National Semi-Finalist, Bellbrook H.S. OH/Milford H.S. OH/ Ryle H.S. KY/Williamstown H.S. KY
– Madison Independent Indoor 2011 PIA World Champions Battery Arranger
In 1994, he performed as a soloist in Star of Indiana's Brass Theater Featuring The Canadian Brass performing at Lincoln Center and around the country.
From 1999-2003 Nick was the Original Featured Star snare drum soloist performer for The Tony and Emmy award-Winning Show, Blast! He performed in London at The Hammersmith Apollo Theatre, opened in New York City at The Broadway Theater and was in The 1st National Tour, performing in over 40 cities across The United States and Canada.
Nick was the opening solo opening performer introduced by Walter Cronkite at the Kennedy Center Honors for President Clinton. He also performed on NBC's, "Broadway on Broadway" in front of 50,000 people live in Time Square, NYC.
Nick received his Bachelor's degree I n Music Education at The University of Massachusetts at Amherst and Master's in Percussion Performance at Wright State University with Pr. Jerry Noble. He studied with Dr. Peter Tanner, Thom Hannum, Ralph Hardimon, Alan Murray, Colin Mcnutt, Scott Johnson, and Jim Ancona.