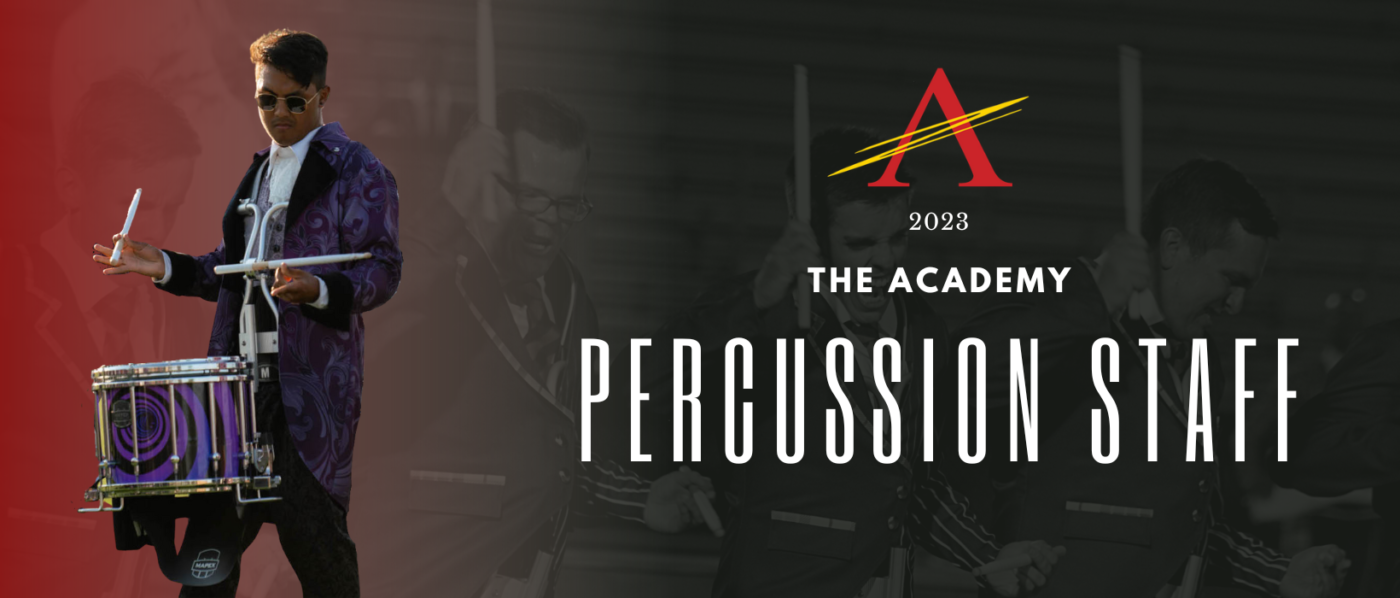 Cole Williams
Percussion Caption Manager
Cole Williams is a composer, arranger, and educator from Guthrie, Oklahoma. He holds a Bachelor of Music in Music Education from Oklahoma State University, and a Master of Music in Music Performance from the University of Arkansas. Currently, Cole is the Adjunct Professor of Percussion at the University of Tulsa in Tulsa, Oklahoma. In this capacity, he works with the Sound of the Golden Hurricane Marching Band, directs the TU Percussion Ensemble, teaches private lessons, and instructs a Percussion Methods class for Music Education majors.
A diverse arranger noted for his musicality and professionalism, Cole has written for distinguished groups across the country. Working with top wind arrangers in the activity, his work has been featured by winning ensembles in Arkansas, Florida, Georgia, Kentucky, Illinois, Indiana, Minnesota, Mississippi, Missouri, Nebraska, New Jersey, New Mexico, New York, North Carolina, Ohio, Oklahoma, Tennessee, Texas, Virginia, Washington, West Virginia, and Wisconsin.
As a performer, Cole has had the privilege of playing in several respected ensembles at Oklahoma State University and the University of Arkansas. He has performed at the Oklahoma Music Educator's Association Winter Convention, the College Orchestra Director's Association Convention, the Percussive Arts Society International Convention, the Collegiate Band Directors National Association Convention, and the Japan Band Clinic. Professionally, Cole has performed as a member of the Arkansas Philharmonic Orchestra and Opera Fayetteville. In addition to his activity in the concert percussion realm, Cole is also an avid marching percussion enthusiast, and spent two summers with The Troopers Drum and Bugle Corps (2012-2013) as a quad player.
Cole is a sought after educator in the marching percussion realm. He is the Executive Director of Resistance Indoor Percussion and the Battery Coordinator for Collinsville High School. In addition to these roles, Cole has served as a Percussion Instructor for several high schools, including Alma High School, Guthrie High School, Stillwater High School, and Yukon High School. He has also served as the Caption Head of the Oklahoma State University Winter Drumline, a group designed to help high school and college students polish their rudimental skills. From 2014-2016, Cole spent three seasons as the Assistant Percussion Caption Head/Tenor Technician for the Cascades Drum and Bugle Corps. Most recently, Cole was the instructor for the University of Arkansas Razorback Drumline.
Cole Williams is a Vic Firth Educator, Pearl/Adams Regional Educational Artist, Zildjian Education Artist, a Remo Education Artist, and a member of the Percussive Arts Society (PAS).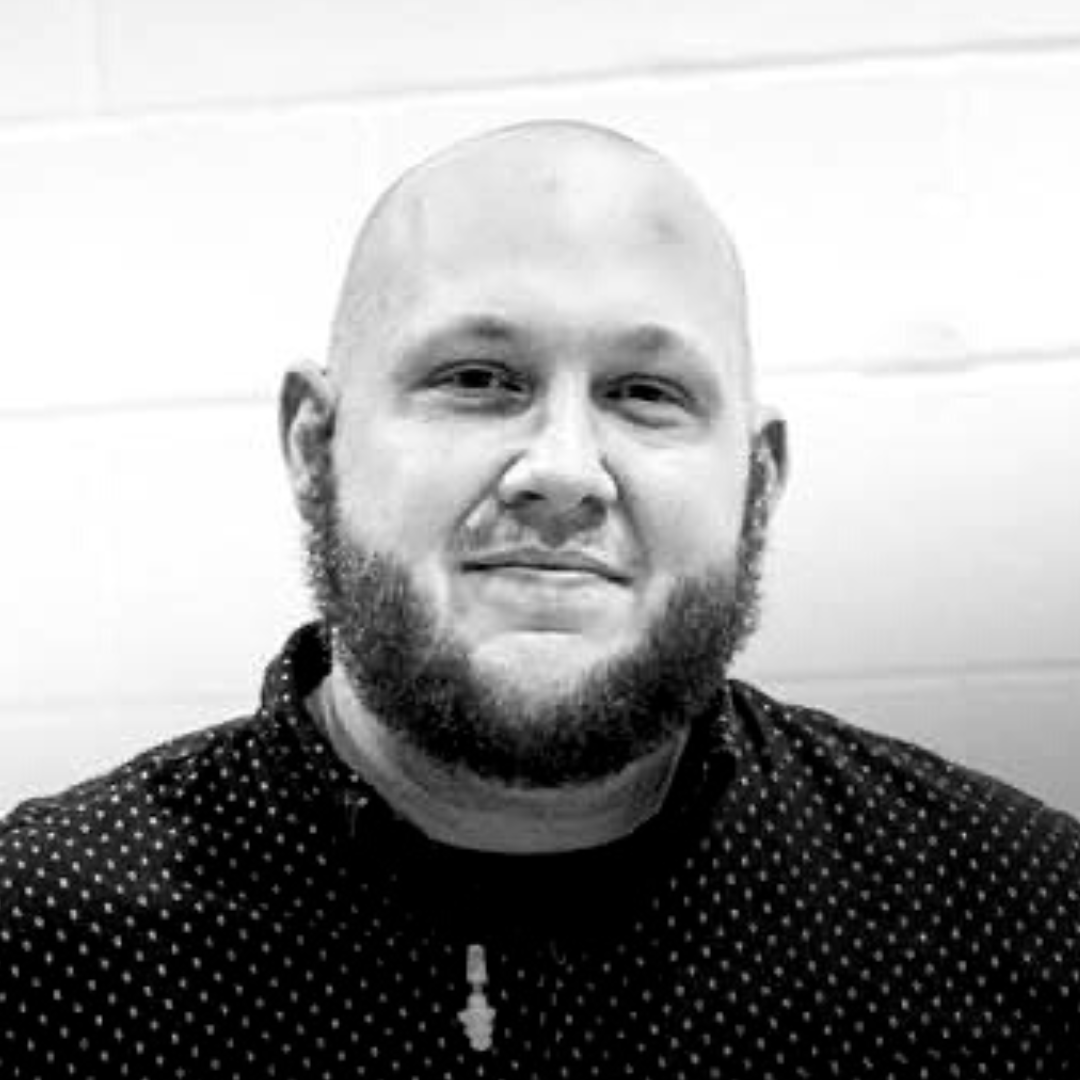 Cole Williams
Percussion Caption Manager
Tim Bartee II
Front Ensemble Coordinator
Tim Bartee II is an active educator across Oklahoma. He is currently the Front Ensemble Coordinator for Resistance Indoor. His past teaching experiences also include Broken Arrow, Union, The Crossmen, and Monarch Independent in '19 and '20.
Tim has a very diverse marching background. His WGI journey was spent with Resistance '12-'15, Gateway '16-'17, and Monarch '18. Tim spent his summers marching with Forte '12, The Madison Scouts '13-'14, The Bluecoats '15, Carolina Crown '16, and aged out with The Cavaliers in '17.
Tim is currently pursuing his Bachelor of Applied Technology in Audio Production with a minor in Jazz Studies at The University of Central Oklahoma. In his free time, Tim likes to jam in a local funk band PocketChange.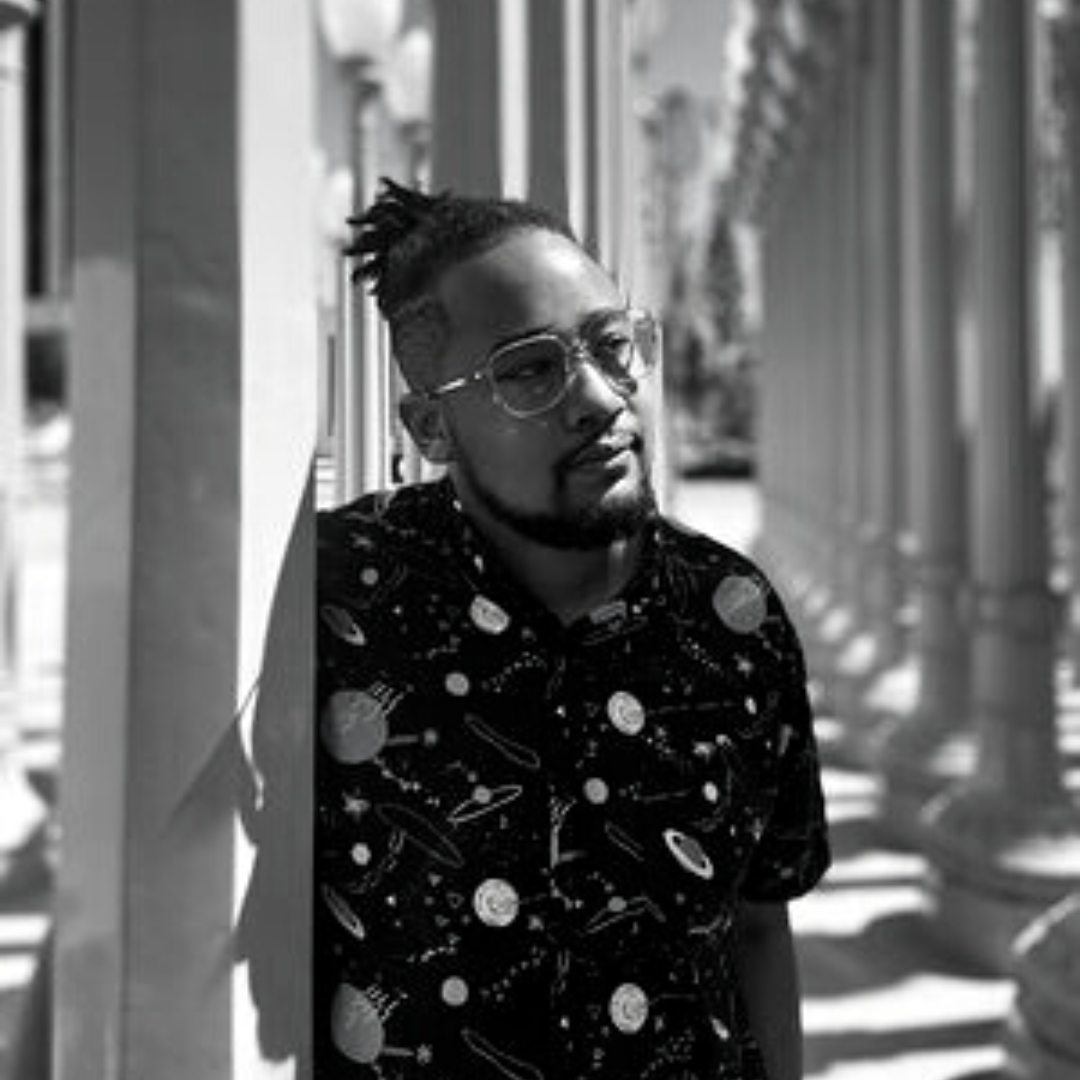 Tim Bartee II
Front Ensemble Coordinator
Pat Champan
Battery Co-Coordinator
Pat Chapman was named Principal Percussionist of the Billings Symphony Orchestra in September 2021. Mr. Chapman has traveled the country as a performer and educator. Pat was one of six international percussionists selected to be a part of the YouTube Symphony Orchestra, which consisted of 90 professional musicians from around the world. Under the baton of Michael Tilson Thomas, the YTSO performed its debut concert at Carnegie Hall in New York City. Pat has performed with professional orchestras in California, South Carolina, North Carolina, Georgia, Montana, and Arizona. He has given masterclasses and clinics at California State University, Augusta State University and Southern Illinois University.
Pat's drum corps experience started back in 2009 where he was a member of the snare line for The Cavaliers Drum & Bugle Corps. He also served on the Percussion Staff for the Troopers Drum & Bugle Corps from 2013-2015.
Pat holds a Bachelor's of Music degree from the University of South Carolina and earned his Master's of Music Degree from Long Beach State. In 2020, Pat graduated from the prestigious Colburn School in downtown Los Angeles with a Professional's Diploma.
Pat currently lives in Tempe, AZ where he is pursuing his Doctorate of Musical Arts degree from Arizona State University where he regularly performs as an extra musician with the Phoenix Symphony and Tucson Symphony.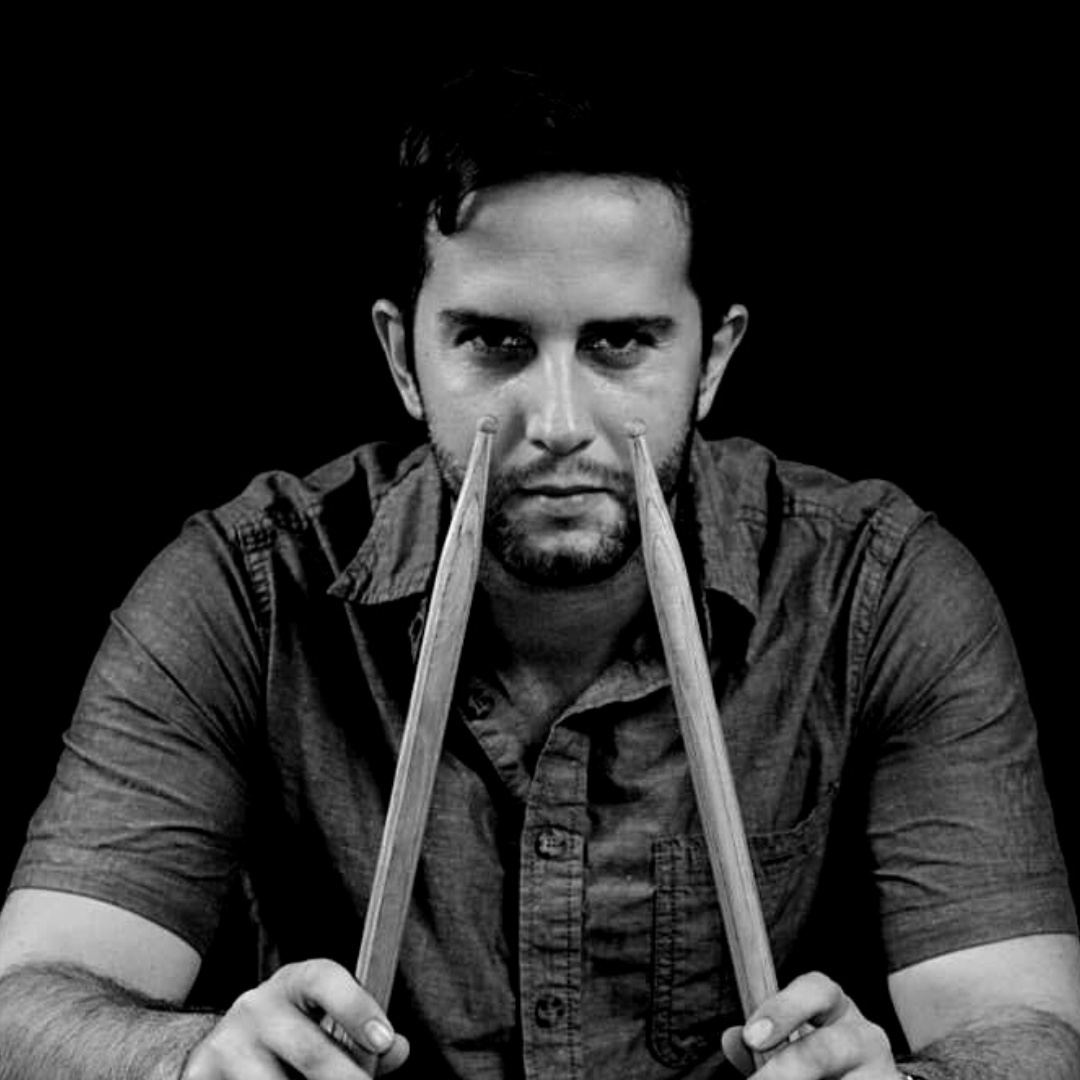 Pat Chapman
Battery Co-Coordinator
Miles Kenobbie
Battery Co-Coordinator
Miles marched at The Academy Drum and Bugle Corps for two years back in 2014 & 2015. His other marching experience consists of three years with Breakthrough Indoor Percussion (2013-2015), two years with the Sun Devil College Marching Band (2014 & 2015), four years with Riverside City College (2016-2019), and two years with The Blue Devils Drum and Bugle Corps (2016 & 2017). He graduated from ASU with a Digital Culture (Music Concentration) Major in 2018. He has taught at DCI groups such at The Academy and The Cavaliers, is currently teaching at Arizona State University, and is also the Percussion Caption Head at Gilbert High School. Besides playing and teaching drums, Miles enjoys creating electronic music, DJing, and creating YouTube content on the side.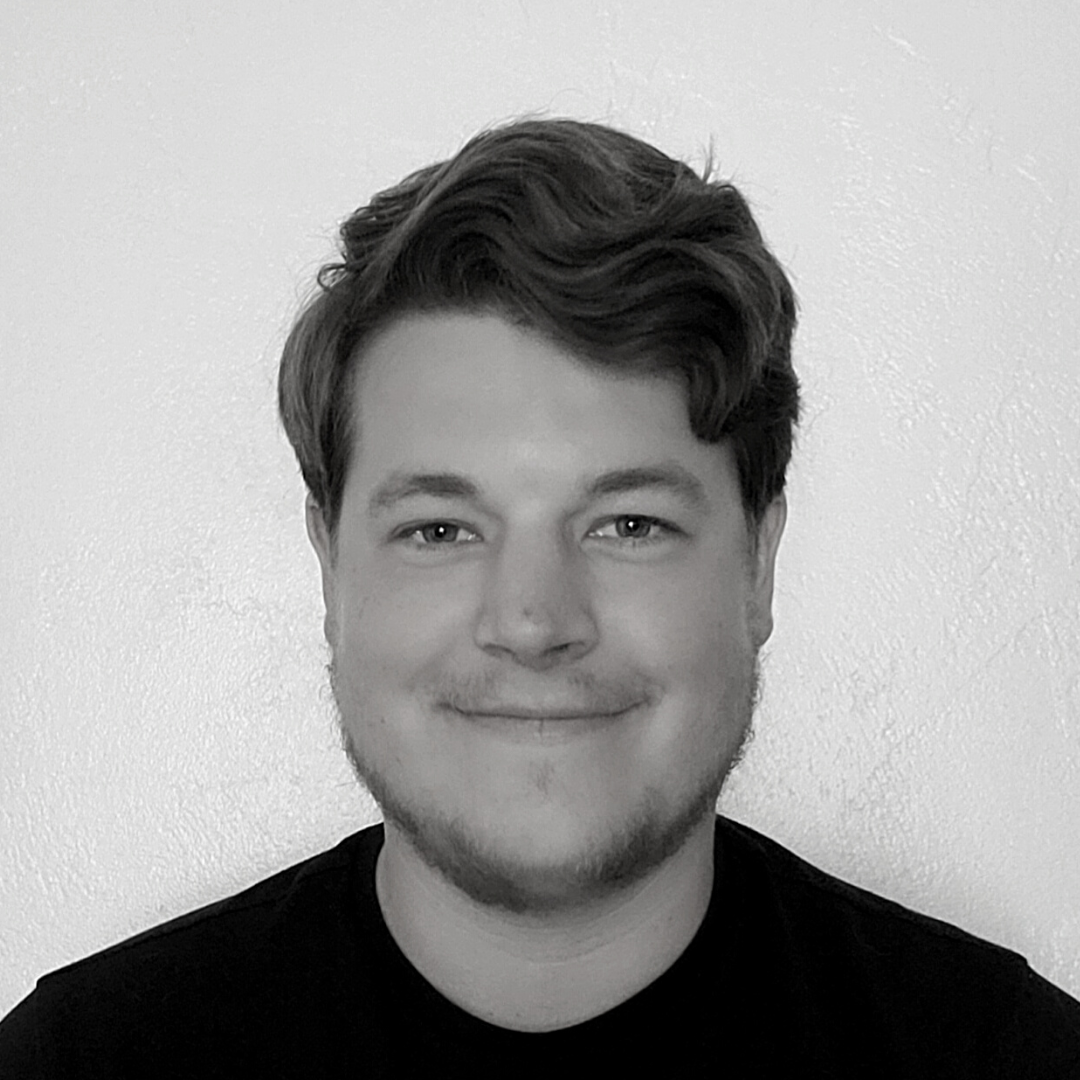 Miles Kenobbie
Battery Co-Coordinator
Taylor Poole
Battery Co-Coordinator
Taylor Poole is a graduate from Georgia State University (Atlanta, GA) earning her Master's degree in Orchestral Percussion Performance under the guidance of Dr. Stuart Gerber and Charles Settle. Beginning her undergraduate career at the University of South Carolina with Dr. Scott Herring, she ultimately finished her degree at Georgia State University in Music Management with an emphasis in Marketing.
She currently serves as Battery Caption Head at Civitas Independent, helping guide the ensemble to a second place finish in Independent Open Class at WGI for their 2022 season with the organization winning the music caption overall.
As a performer, she was an active member of the marching percussion world, performing in both Drum Corps International and Winter Guard International. Taylor was a member of the tenor lines of both Spirit of Atlanta (2011-2013) and Gateway Indoor (2013-2014) under the instruction of Chris Hestin, Ben Pyles, and Michael McIntosh respectively. She is an active educator working in the Southeast US with various programs, most recently working with TL Hanna High School (Anderson, SC), Kell High School (Marietta, GA), and Southwind Drum and Bugle Corps (Daphne, AL).
Excited for the upcoming season, she is looking forward to working with The Academy this summer!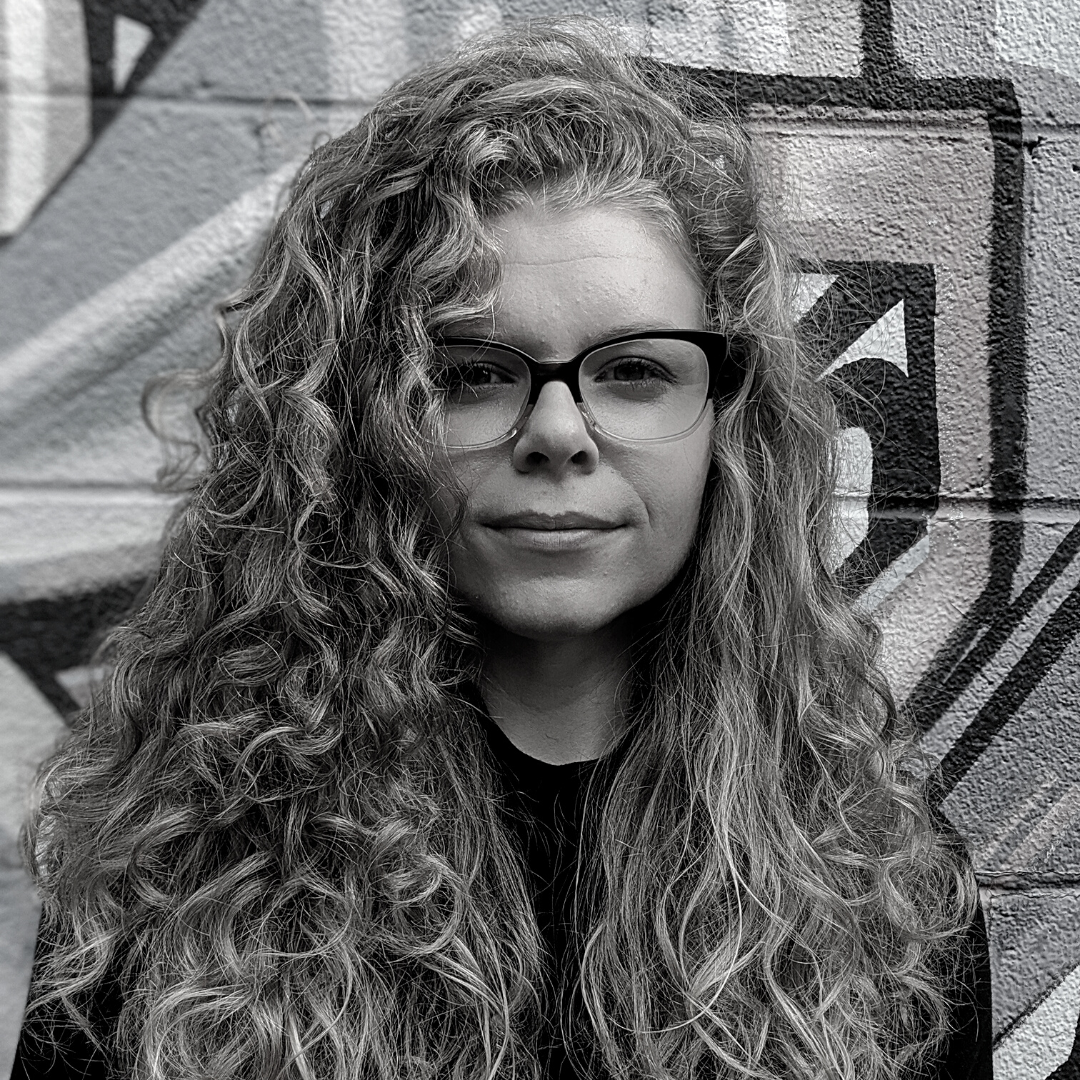 Taylor Poole
Battery Co-Coordinator
Dakota McConnell
Snare Technician
Dakota McConnell is a percussionist and educator from Casa Grande, Arizona. Dakota is an alumni of The Academy Drum and Bugle Corps where he marched from 2014-2017, leading the section in '15 and '17. Dakota also marched with Pulse Percussion in the 2017 and in 2018 led the group to a 4th place finish. Dakota has a Bachelor of Arts from ASU in interdisciplinary studies with concentrations in business and economics. Dakota is the executive director as well as the battery arranger for Flux Indoor Percussion, a WGI World Class organization based out of Casa Grande, AZ. Dakota has taught Casa Grande Percussion Ensemble since fall 2016, taught with The Academy Drum and Bugle Corps in 2018, and Blue Stars from 2019-2022. Dakota has learned from, but not limited to, Glen Crosby, Ike Jackson, John Mapes, Cisco Hance, Rick Barclay, Ryan Anderson, Ezekiel Lanser, Connor Yasuda, Drew Guy, Will Edmonds, Stevie Hagel, and John Sutton.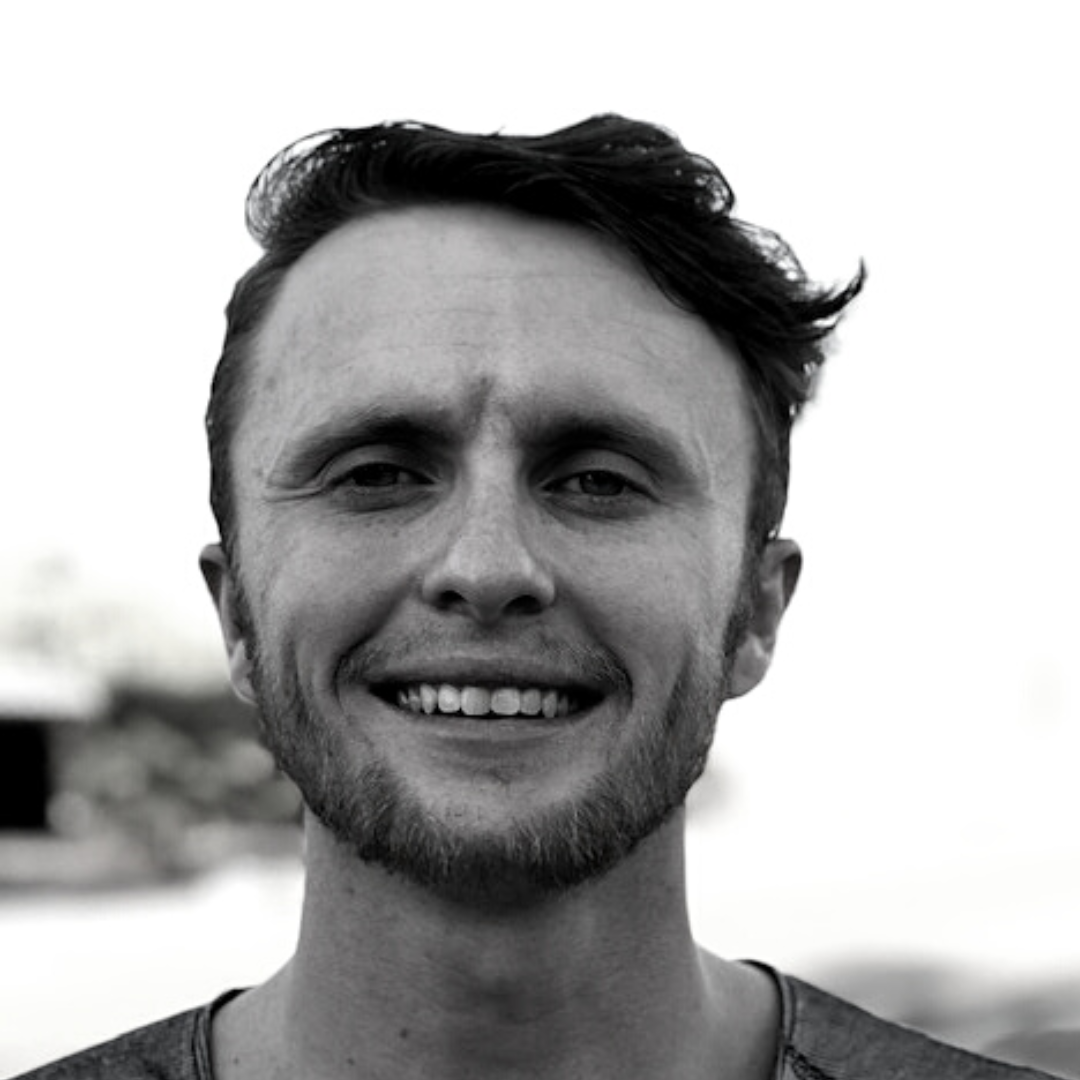 Dakota McConnell
Snare Technician
Matthew Noll
Snare Technician
Matthew Noll is a graduate teaching assistant at the University of North Texas pursuing a Master of Music in percussion Performance. He received his Bachelors in Music Performance from the University of Kentucky where he studied under James Campbell.
Matthew has a diverse background in percussion performance. In 2019 he received a bronze medal at the Winter Guard International PIW World Championships as a snare drummer for Music City Mystique. In the same year, Matthew premiered "Time Dilation" by Francisco Perez at PASIC as part of the 2019 All-Star Percussion ensemble.
Matthew has instructed multiple highschool drumlines around Kentucky and the DFW area. Matthew currently serves as the Percussion instructor of the UNT Green Brigade Marching Band.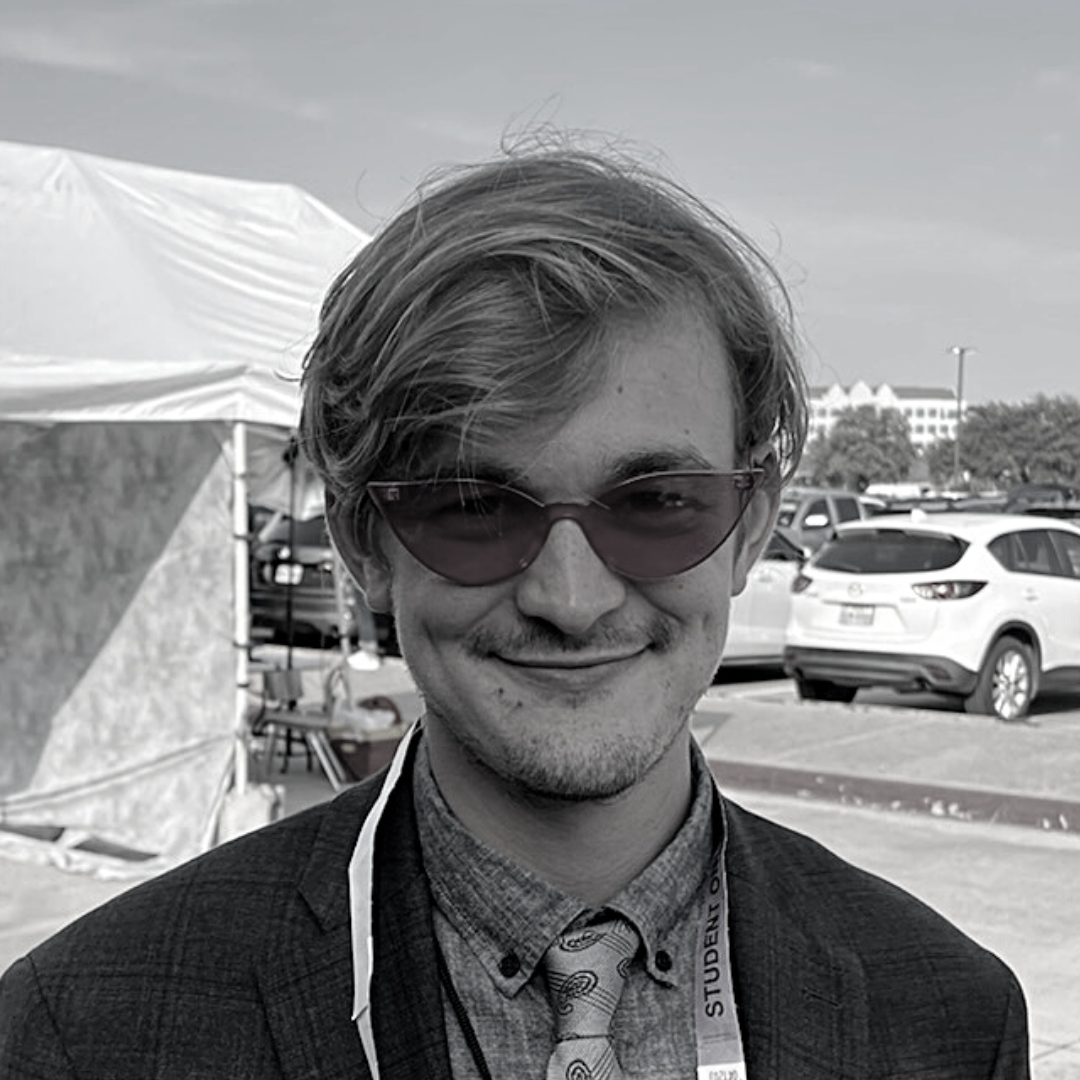 Matt Noll
Snare Technician
David Parker
Snare Technician
David Parker is a percussion teacher and arranger from Oklahoma City, Oklahoma. Specializing in marching snare, David started his performance career with Resistance Indoor Percussion in 2015. From 2017 to 2018, he performed with The Academy Drum and Bugle Corps, serving as the section leader of the snare line in 2018. He spent his final years performing at Bluecoats Drum and Bugle Corps, earning a silver medal at DCI World Class Finals in 2019.
David has instructed and written for many high school drumlines across Oklahoma, including Owasso High School, Broken Arrow High School, and Putnam City West High School. He most recently taught at Crossmen Drum and Bugle Corps in 2021. In addition, David has privately taught hundreds of students since 2017, guiding them on the path to their dream ensembles. He also manages his own small business where he publishes and sells his own original compositions.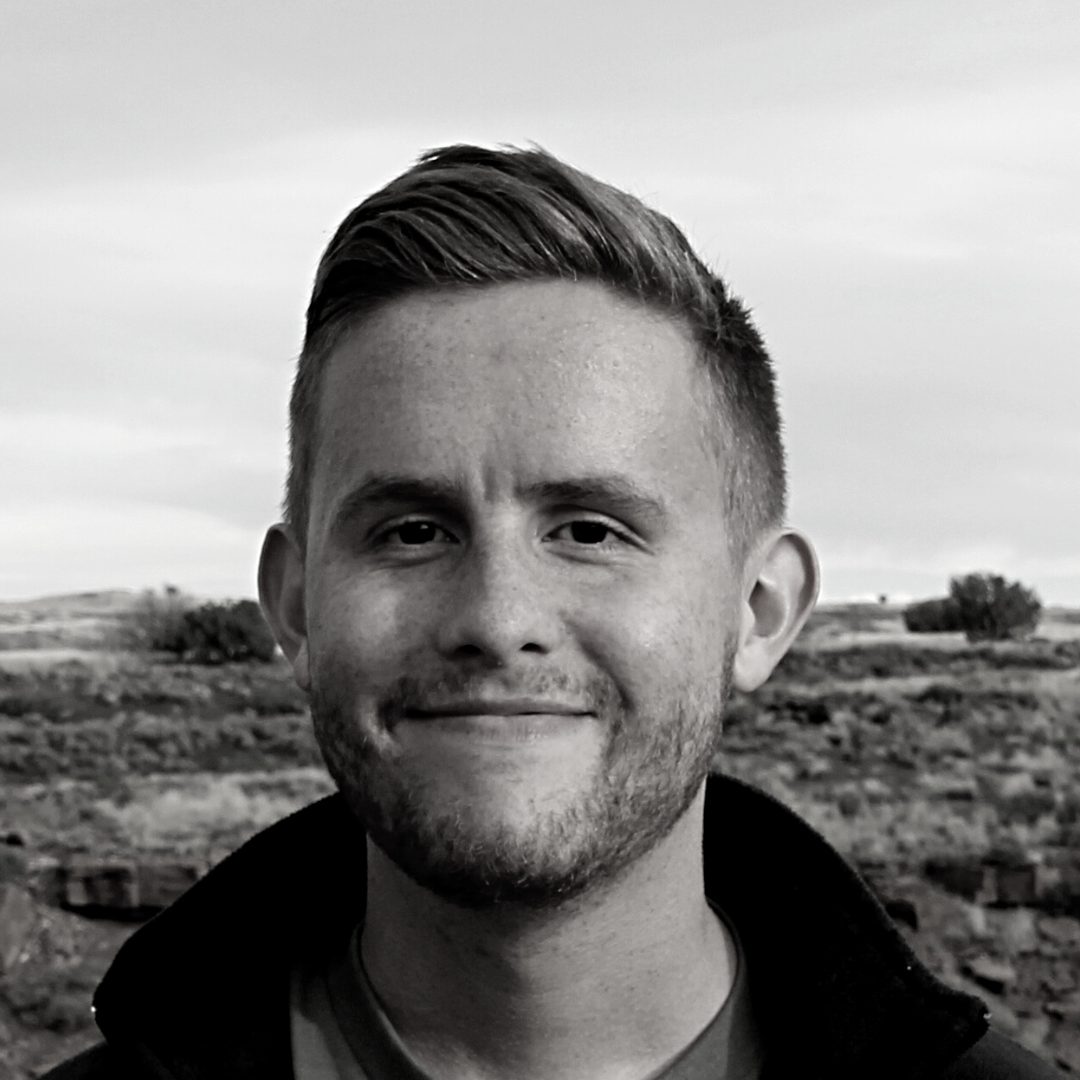 David Parker
Snare Technician
Jake Taylor
Snare Technician
Jake Taylor, originally from Olathe Kansas, Now based out Tampa Fl, started his independent marching career with Gateway Indoor (2016 & 2018) and has since marched with groups such as Cap City (2019-2022) and Crossmen (2019). As an Instructor, Jake has worked with various groups in the Kansas City Area as well as Tarpon Springs Leadership Conservatory For The Arts. This is Jake's first year with The Academy.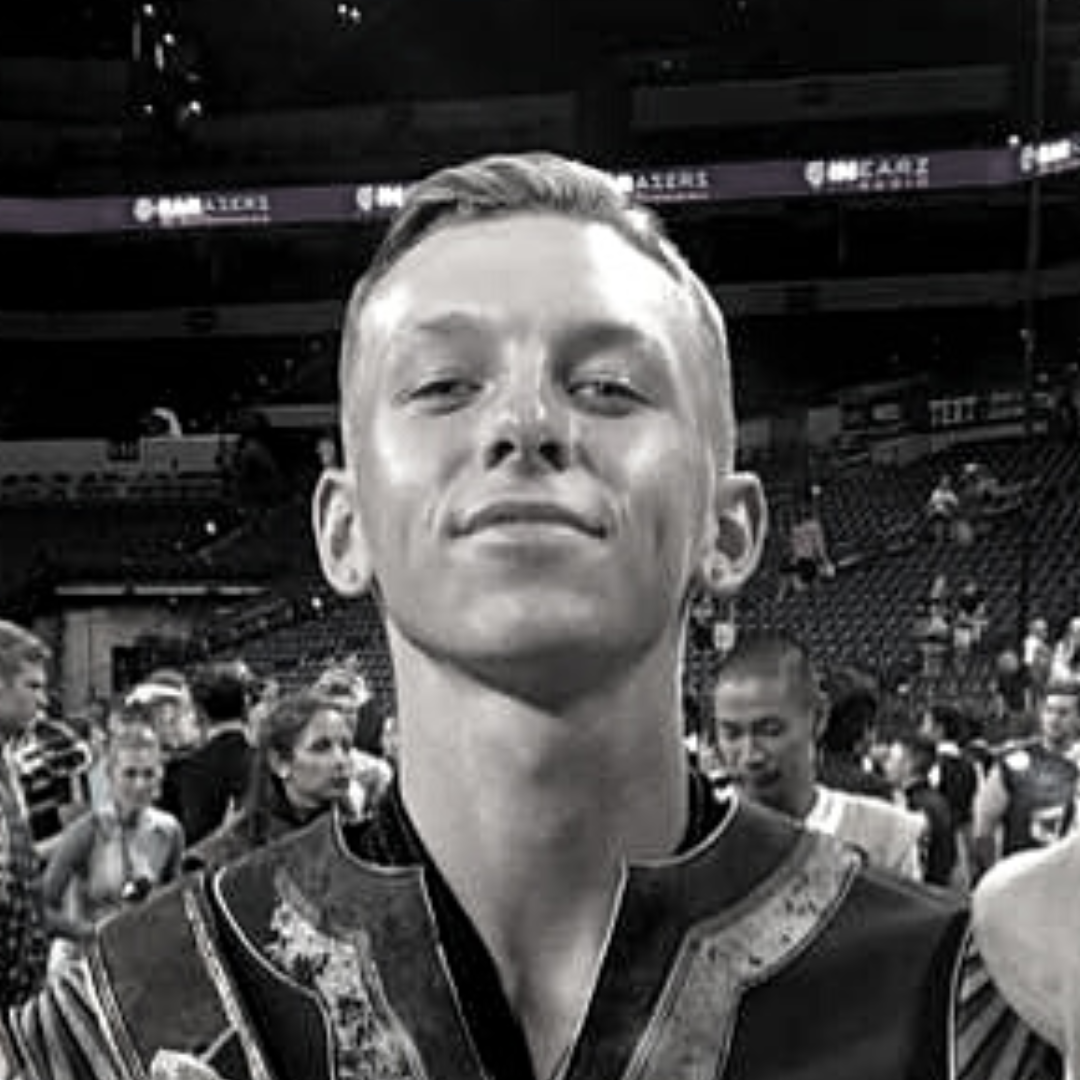 Jake Taylor
Snare Technician
Aaron Long
Tenor Technician
Aaron works as a Civil Engineer in Northwest Arkansas, and currently holds a B.S. in Civil Engineering with a minor in Mathematics from the University of Arkansas. After his post-graduate COVID Wastewater research, he began working in Water and Wastewater Design.
Starting his WGI independent career at Resistance Indoor (2017, 2018, 2020), Aaron also marched a season with Freedom Percussion in 2019. In his continued effort to broaden his performance experience, Long spent a summer performing in the 2019 season of DCI with Music City Drum and Bugle Corps. Aaron has taught at Fort Osage HS, Bentonville West HS, Siloam Springs HS and the University of Arkansas.
He currently teaches at Bentonville HS and Resistance Indoor Percussion.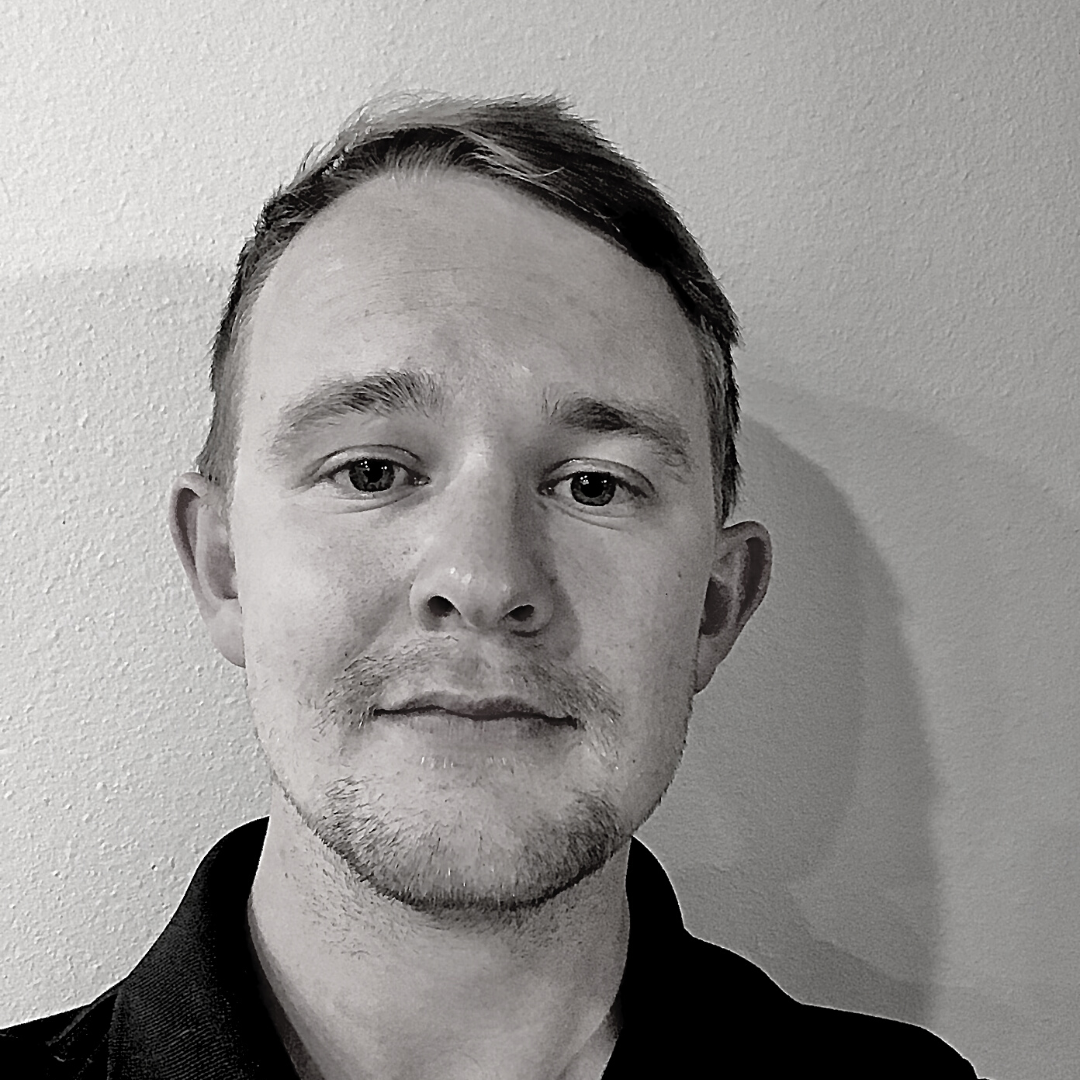 Aaron Long
Tenor Technician
Caleb Fankhauser
Tenor Technician
Caleb is an active freelance performer and mix engineer based in Kansas City, Missouri where he performs with various dance bands, combos, and the KC Chiefs Rumble Drum Line. He spent 4 summers (2013-2016) with the Troopers Drum and Bugle Corps playing quads.
As an educator, he has worked with various high school and university percussion sections including Park Hill High School (Kansas City, MO), Oak Park High School (North Kansas City, MO), Blue Springs High School (Blue Springs, MO) and the University of Kansas drum line.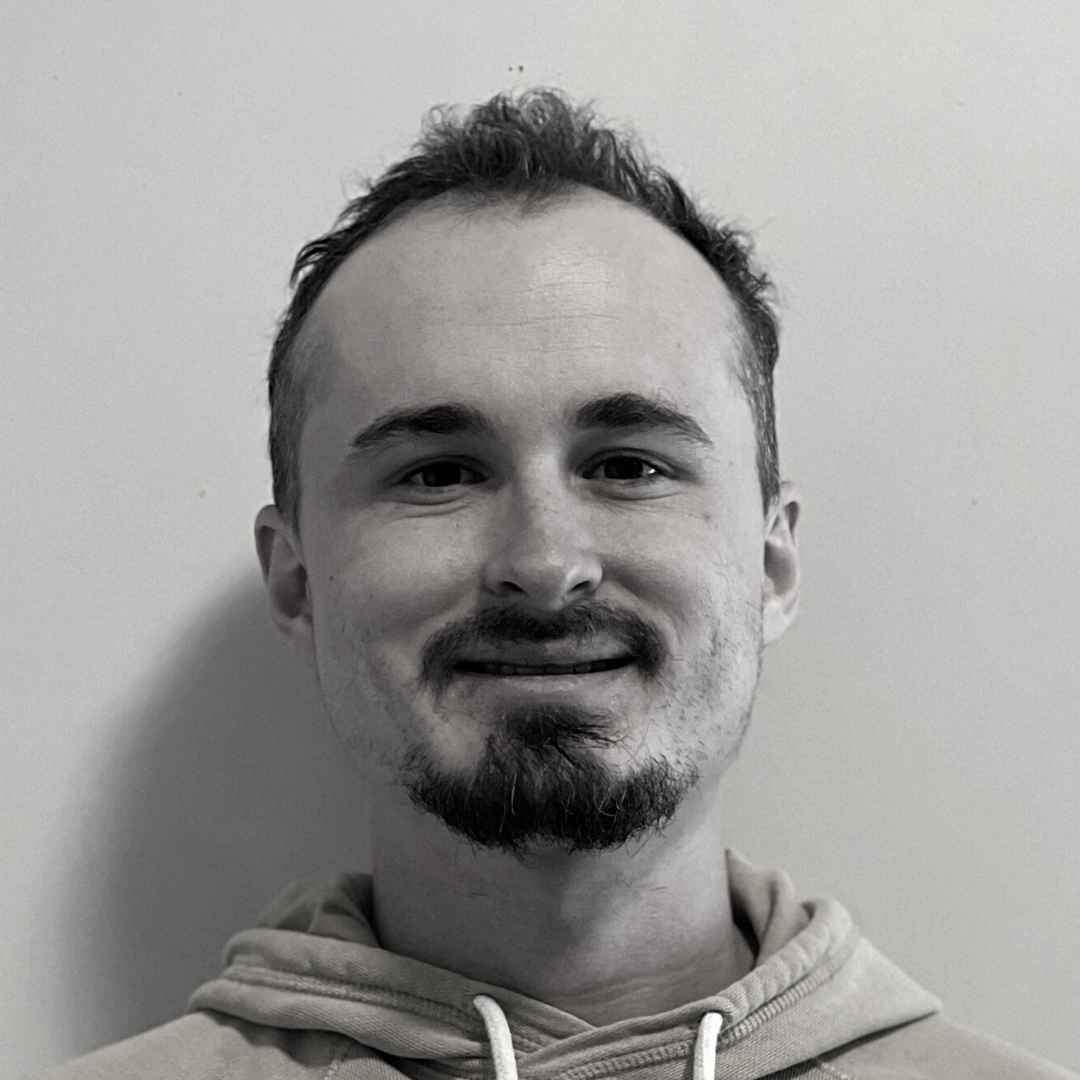 Caleb Fankhauser
Tenor Technician
Bradley Baird
Bass Drum Technician
Born in Texarkana, Texas, Bradley Baird is an avid educator, composer, and performer located in the Dallas-Fort Worth Metroplex. He currently serves as Director of Percussion for Independence High School in Frisco ISD and previously served as an Assistant Band Director and Percussion Specialist for Cypress Falls High School in Cypress-Fairbanks ISD. Additionally, Bradley served on the Percussion Staff in multiple facets at the Guardians Drum and Bugle Corps for the 2019 Season. This will be Bradley's first season with The Academy and he's incredibly excited for the 2023 Season!
Under his direction, Bradley's marching percussion ensembles have received honors such as "Outstanding Percussion Performance" at the 2021 Battle at the Berry marching competition in addition to 2 Caption Awards and First Place in their division at the 2022 Lewisville Drumline Invitational. Other ensemble honors include directing the Cypress Falls Indoor Drumline to compete as a State Finalist within the Texas Color-Guard Circuit and directing the Cypress Falls High School Sub-Non Varsity Band to earn a UIL Sweepstakes award.
Bradley's performance endeavors have led him to perform in many different groups around the country. He performed with groups such as the Spirit of Atlanta Drum and Bugle Corps, where he served as Bass Drum Section Leader, Vigilantes Indoor Percussion, and with the Mesquite Symphony Orchestra where he served as Interim Principal Percussionist. Additionally, he spent the summer of 2018 as a percussionist for the Miami Music Festival's Symphony Orchestra Institute while studying with Jacob Nissly (San-Francisco Symphony). Lastly, Bradley has performed at the Percussive Arts Society International Convention (PASIC) with the UT-Arlington Percussion Ensemble in 2017 and again in 2019 with the Texas Christian University Percussion Orchestra.
Bradley is an alumnus of Texas Christian University where he earned a Master of Music in Percussion Performance while serving as a Graduate Assistant and is also an alumnus of the University of Texas at Arlington, where he received a Bachelor of Music while majoring in music education. Bradley studied composition with Dr. Martin Blessinger and studied percussion with Dr. Brian A. West, Dr. Richard C. Gipson, Mr. Joey Carter, Mr. Jeff Hodge, Dr. Andrew Eldridge, and Dr. Michael Varner. During his free time, he enjoys collecting sneakers, composing music, playing video games, and spending time outdoors, with his wife, and dog.
Bradley's music can be found published with C. Alan Publications and his professional affiliations include the Pi Kappa Lambda National Music Honor Society (PKL), Texas Music Educator's Association (TMEA), the Percussive Arts Society (PAS), and the American Society of Composers, Authors and Publishers (ASCAP).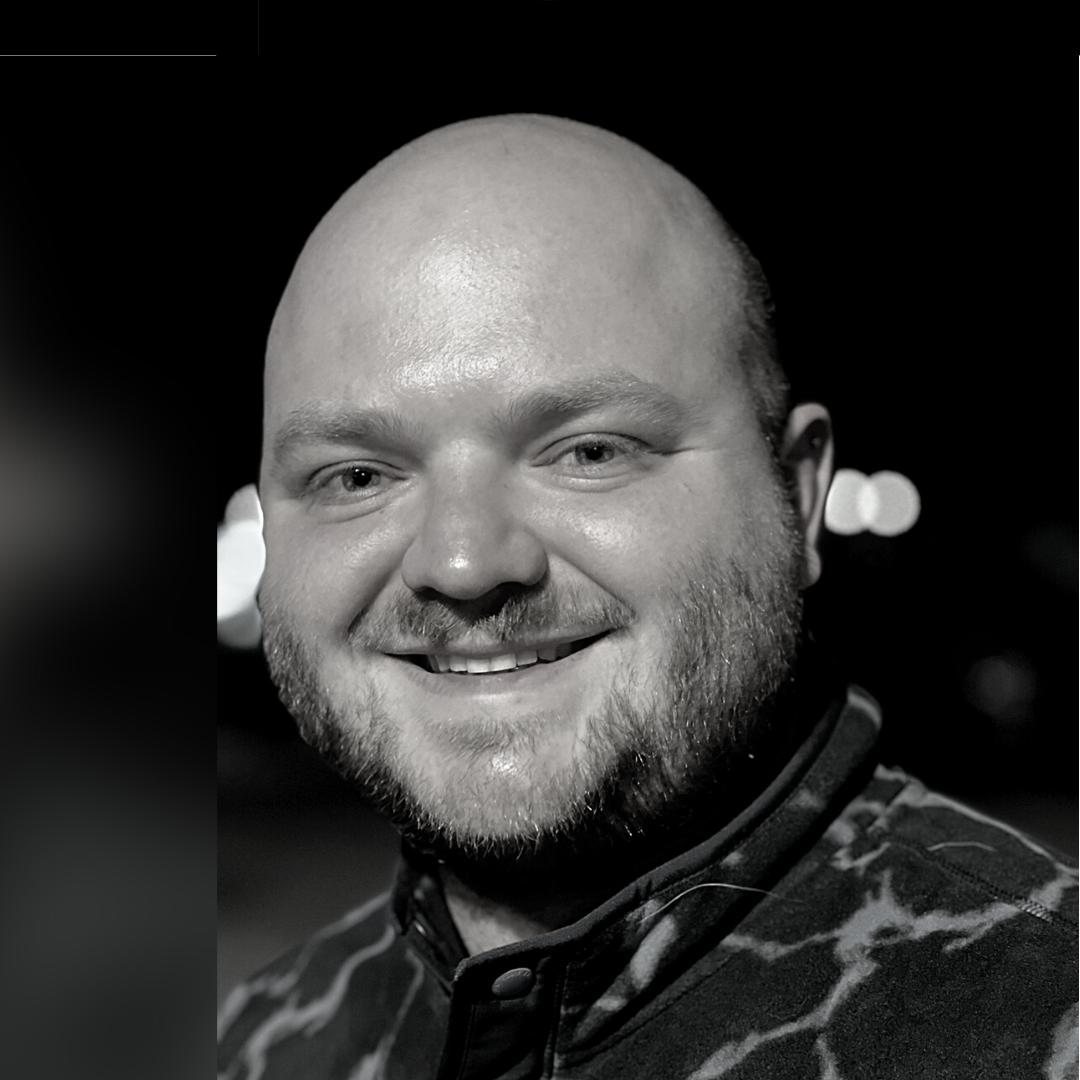 Bradley Baird
Bass Drum Technician
Rhema Baissa
Bass Drum Technician
Rhema Baissa works as a Marriage & Family Therapist in Tulsa, Oklahoma. He recently graduated with a Master of Science in Marriage & Family Therapy from Capella University. His bass drum marching experience includes The Colts in 2017, The Cavaliers in 2018, The Blue Knights in 2019, and Monarch Independent from 2017-2019.
Rhema co-founded Bends with Joy Duarte and promotes themes of community, culture, love, friendship, and peace with the brand. He has taught Union High School since 2018 and Resistance Indoor Percussion since 2021.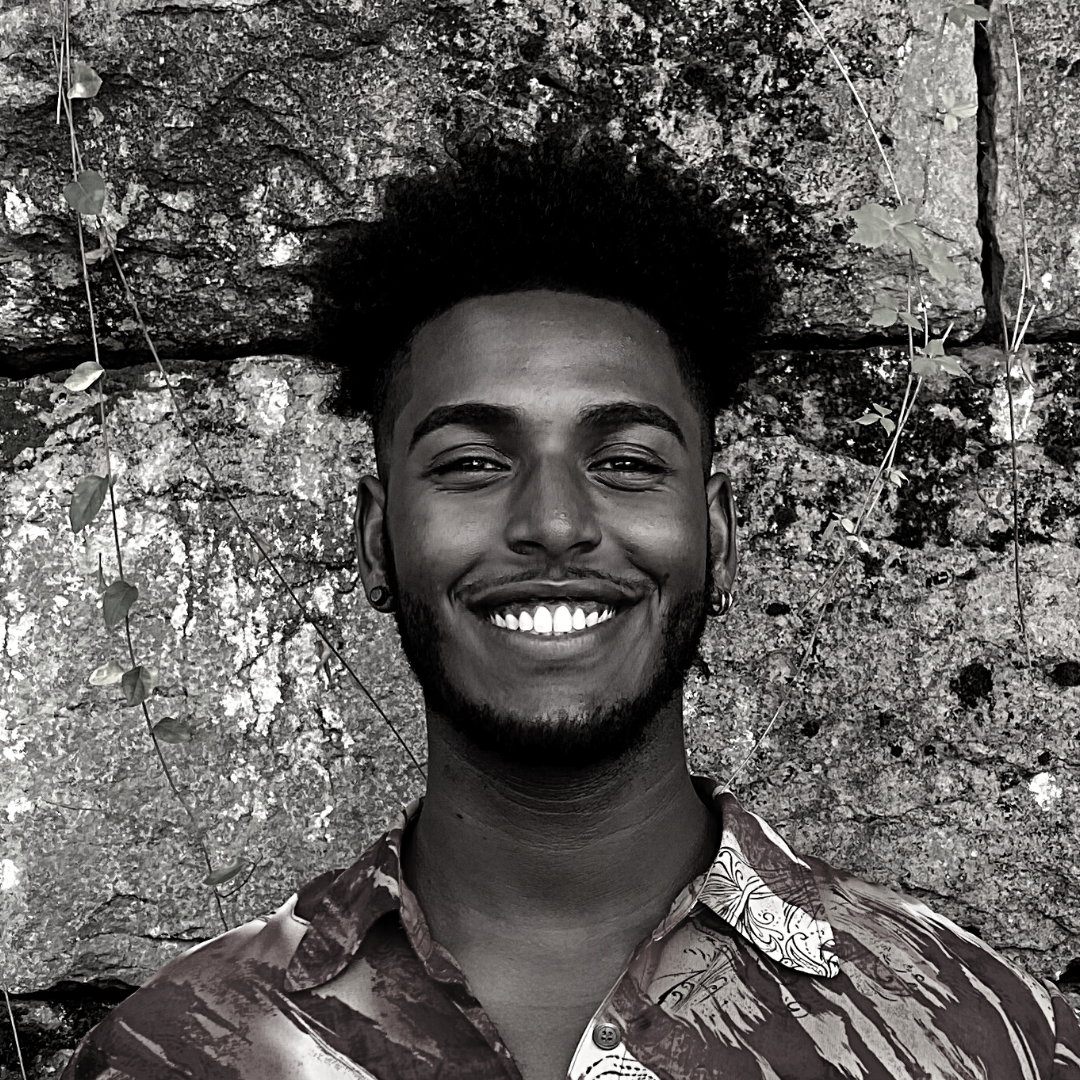 Rhema Baissa
Bass Drum Technician
Marshall Lane
Bass Drum Technician
Marshall Lane is a percussionist from San Antonio, TX. He currently resides in Fort Worth Texas, where he is a student at Texas Christian University (TCU). He will finish his degree in music education in the spring of 2023. Marshall has been a part of the world-renowned TCU Percussion Orchestra and has performed at the Percussive Arts Society International Convention with TCU in 2019, and 2022. Marshall has been fortunate enough to study percussion in Texas under Dr. Brian West, Joey Carter, Jeff Hodge, Sherry Rubbins, and many other fabulous professors and educators.
Marshall recently aged out of DCI this past season (2022) with the Bluecoats, where he earned the silver medal, and won the Fred Sanford award for High Percussion. He was also a member of Pacific Crest in 2021. Both seasons he spent playing bottom bass drum. Marshall has been fortunate enough to work closely with Roger Carter, Joe Hobbs, John Lluvera, Tom Rarrick, Glen Crosby, Nicole Casino, and Murray Gussek. Marshall has been a staff member at high schools across the Dallas/Fort Worth area, most recently assisting with WGI open class finalists Burleson HS, and Summit HS.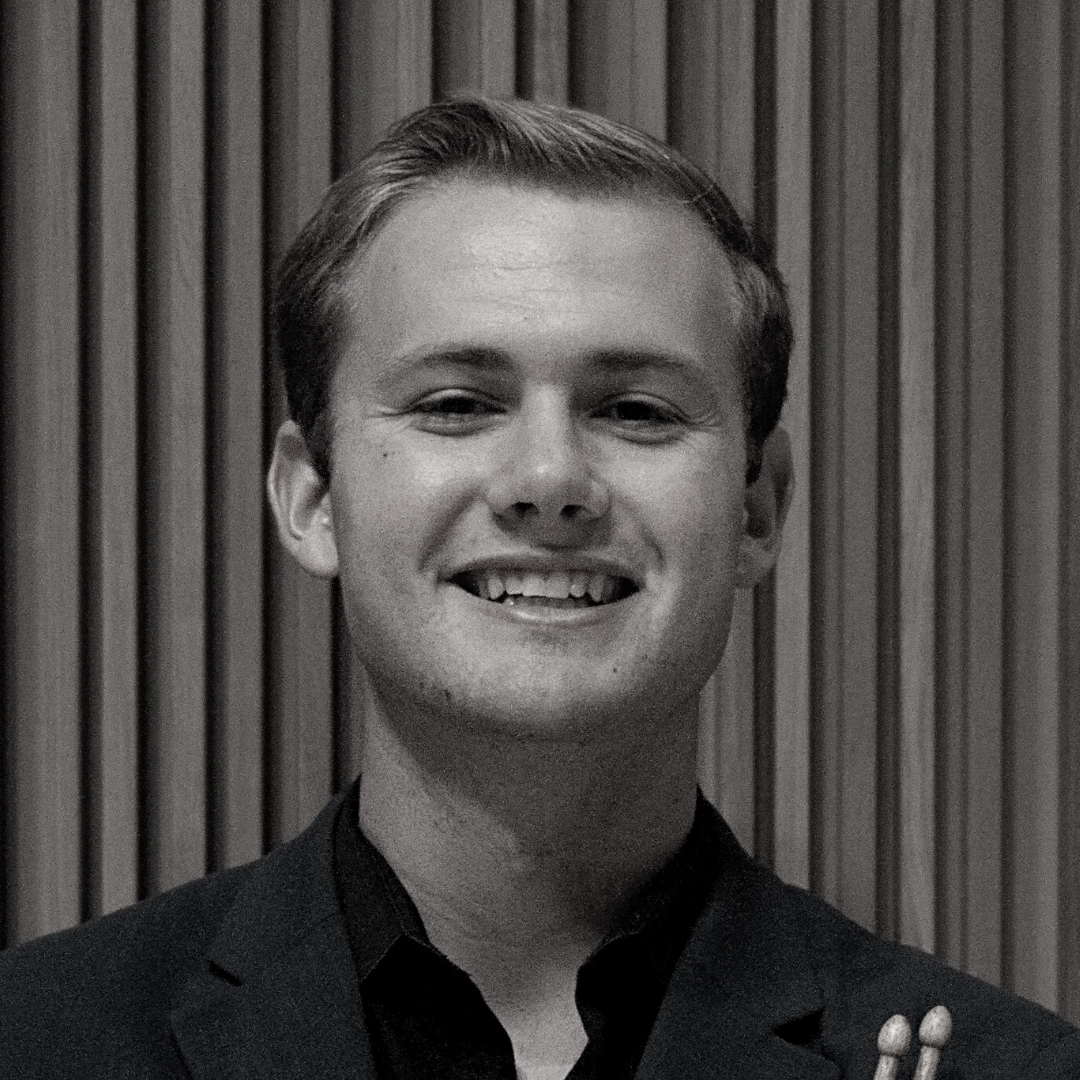 Marshall Lane
Bass Drum Technician
Andrew Szypula
Bass Drum Technician
Andrew Szypula (www.andrewszypula.com) is a percussionist, arranger, producer, and educator in New Orleans and serves as the Assistant Director of Bands at Tulane University. Andrew received dual Bachelor's degrees in music education and percussion performance from West Chester University of Pennsylvania and a Master of Music in Percussion Performance from Temple University. At Temple, Andrew studied with Philadelphia Orchestra Principal Percussionist Chris Deviney and the late orchestral legend, Alan Abel.
Andrew is a regular performer with the Louisiana Philharmonic Orchestra and can be found on drums and percussion around many New Orleans live music venues. He can be heard on the 2020 LP, Outta Ya Mind from The New Orleans Johnnys and singles from Simple Sound Retreat and The Songwriter Collective. In the studio, Andrew has recorded with artists including George Porter, Jr., Khris Royal, Caren Green, Jon Cleary, and Jay Weigel. He has performed across the United States with Blue Devils Performing Arts, Windish Music and Productions, and Carolina Crown Drum and Bugle Corps.
Marching arts design and instructional credits include Tulane University, Temple University, Medellín Gran Banda, Blue Devils Performing Arts, World Expo 2020 Dubai, Jersey Surf World Class Drum and Bugle Corps, St Martin Independent Indoor Percussion, and Old Bridge High School. Most recently, Andrew was signed to Extreme Music as a composer on the record Bang to Rights, a high-energy collection of Drumline tracks designed for film and television.
Andrew is proud to be a member of the Vic Firth and Zildjian Education Team, Percussive Arts Society, and the Beetle Percussion Artist Family.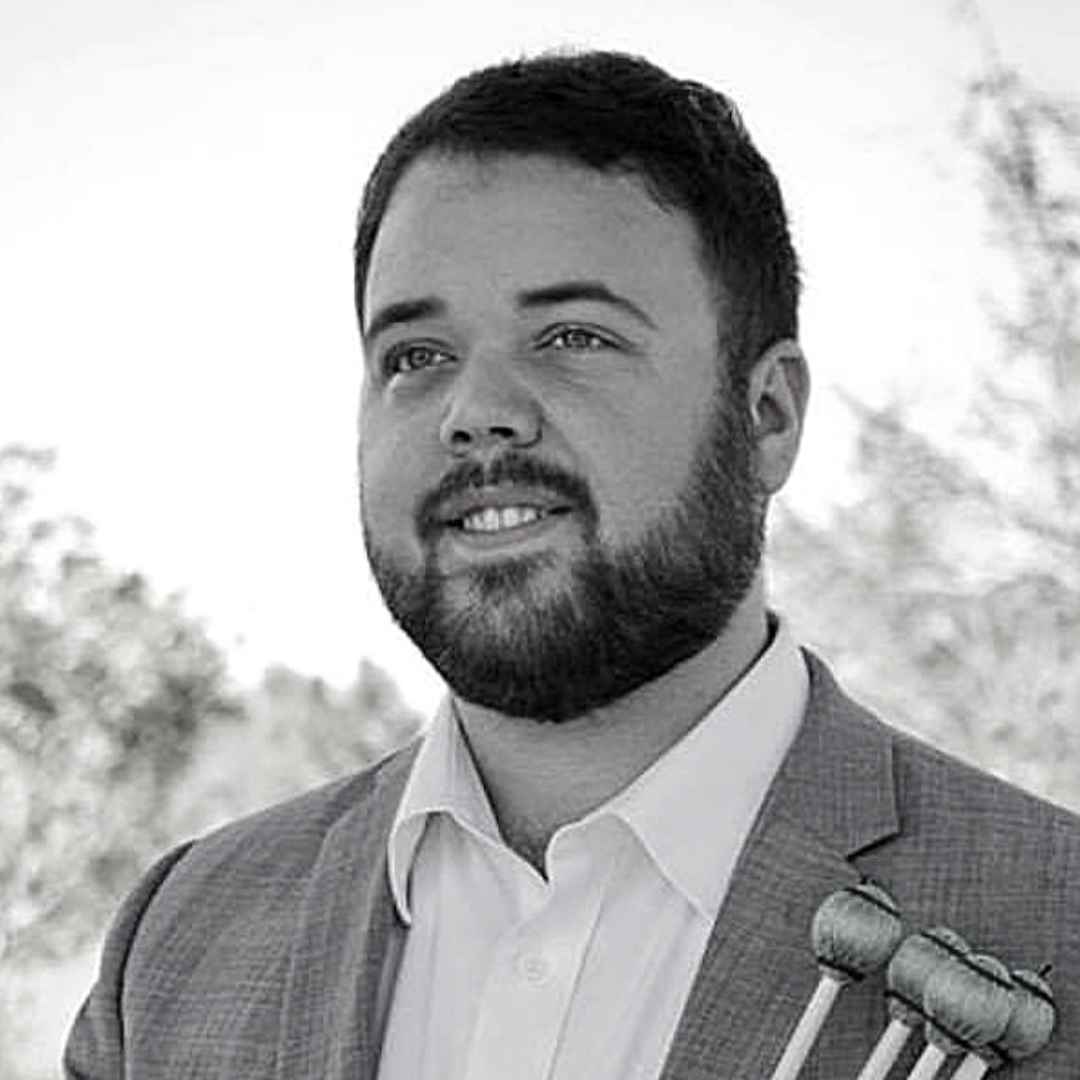 Andrew Szypula
Bass Drum Technician
Bronwyn Zieba
Bass Drum Technician
Bronwyn Zieba is an Arizona native and currently works at a bakery in Phoenix while she furthers her education in Environmental Design. She is a recent graduate from Arizona State University, earning a Bachelor of Science in Environmental Design & Sustainability. Her marching bass drum experience includes spending her first two summers, 2017 & 2018, at The Academy, The Blue Stars in 2019, Dark Sky in 2018 & 2019, and Pulse in 2020.
She uses Design as her passion and creative outlet while expressing herself through music, art, and creativity.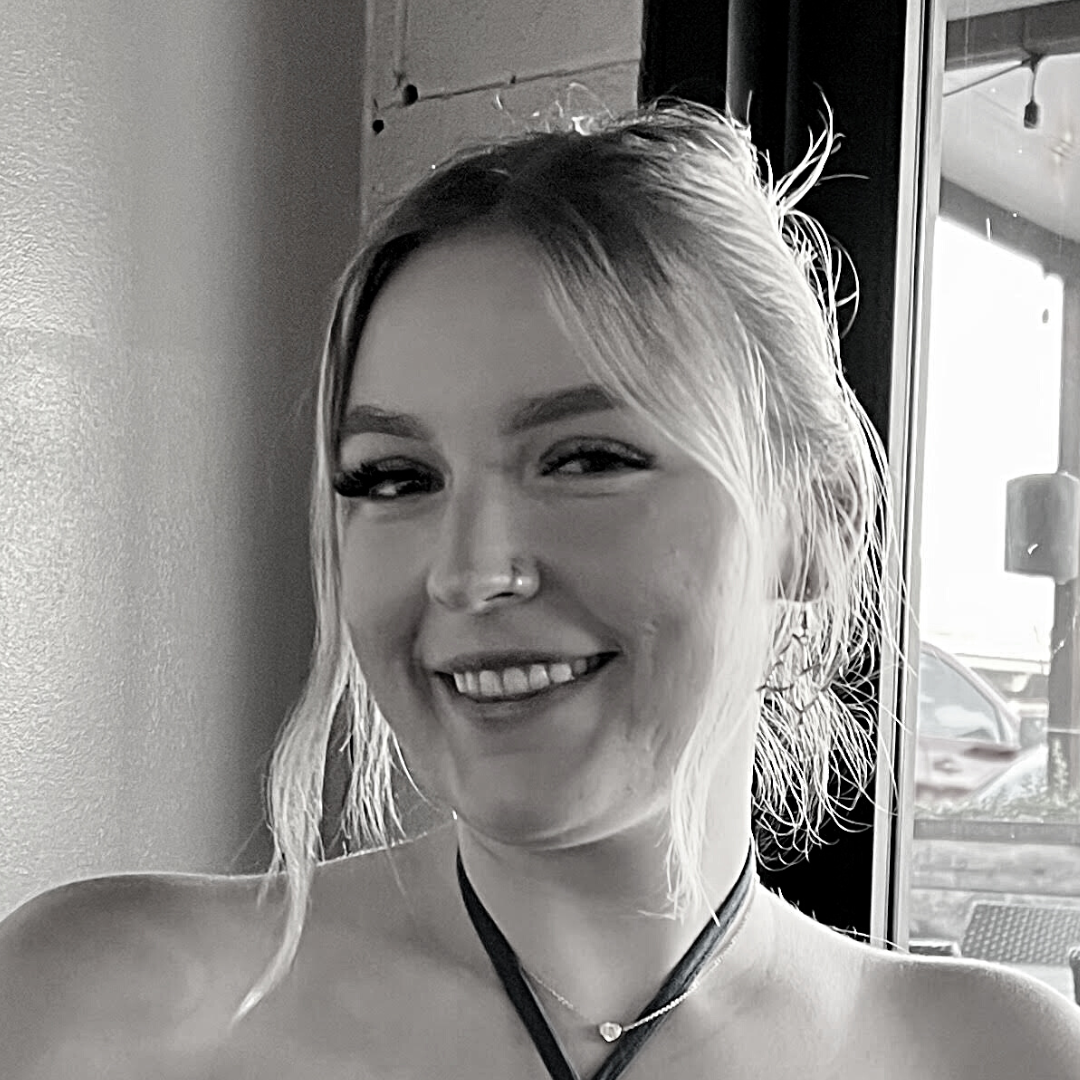 Bronwyn Zieba
Bass Drum Technician
Michael Talerico
Cymbal Consultant
Michael started his Drum Corps career as a member of the Arizona Academy Brass and Percussion Ensemble in 2002. He then went on to become a marching member of the Santa Clara Vanguard Cadets Drum & Bugle Corps Cymbal line from 2003-2005.
Michael spent six years teaching the cymbal line with The Academy Drum and Bugle Corps, and went on to teach at the Santa Clara Vanguard as a member of their Percussion Staff, from 2012-2018.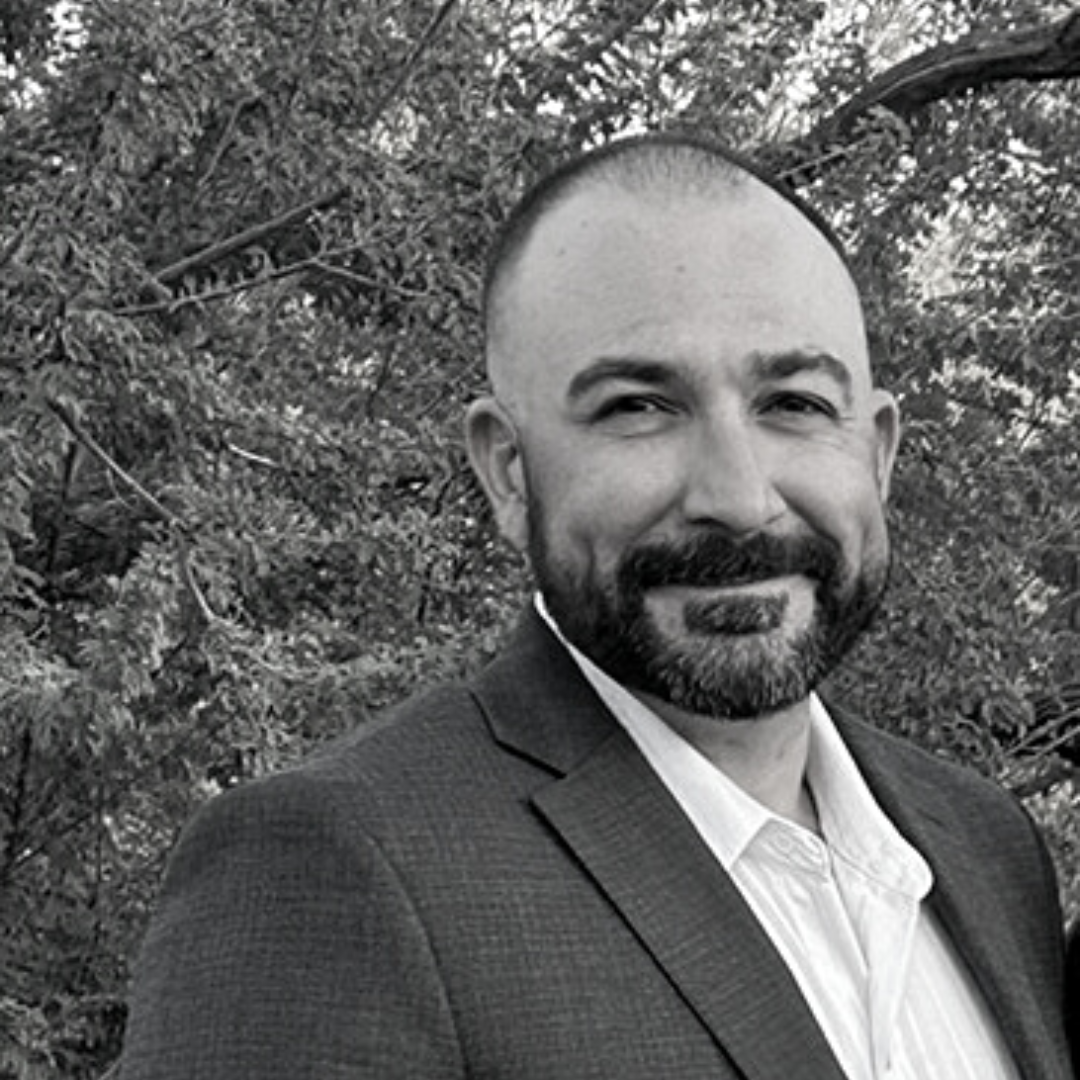 Mike Talerico
Cymbal Consultant
Andrew Bridger
Cymbal Technician
Andy is a musician & fitness professional based in San Jose, California. He marched during the 2015 & 2017 seasons in the Santa Clara Vanguard cymbal line, and was a part of the 2017 drumline achieving the Fred Sanford award. As an educator, he helped teach the Vanguard Cadets cymbal line in 2019. He is also a team member of Forte Athletics, helping drum corps prepare their members athletically for the marching season.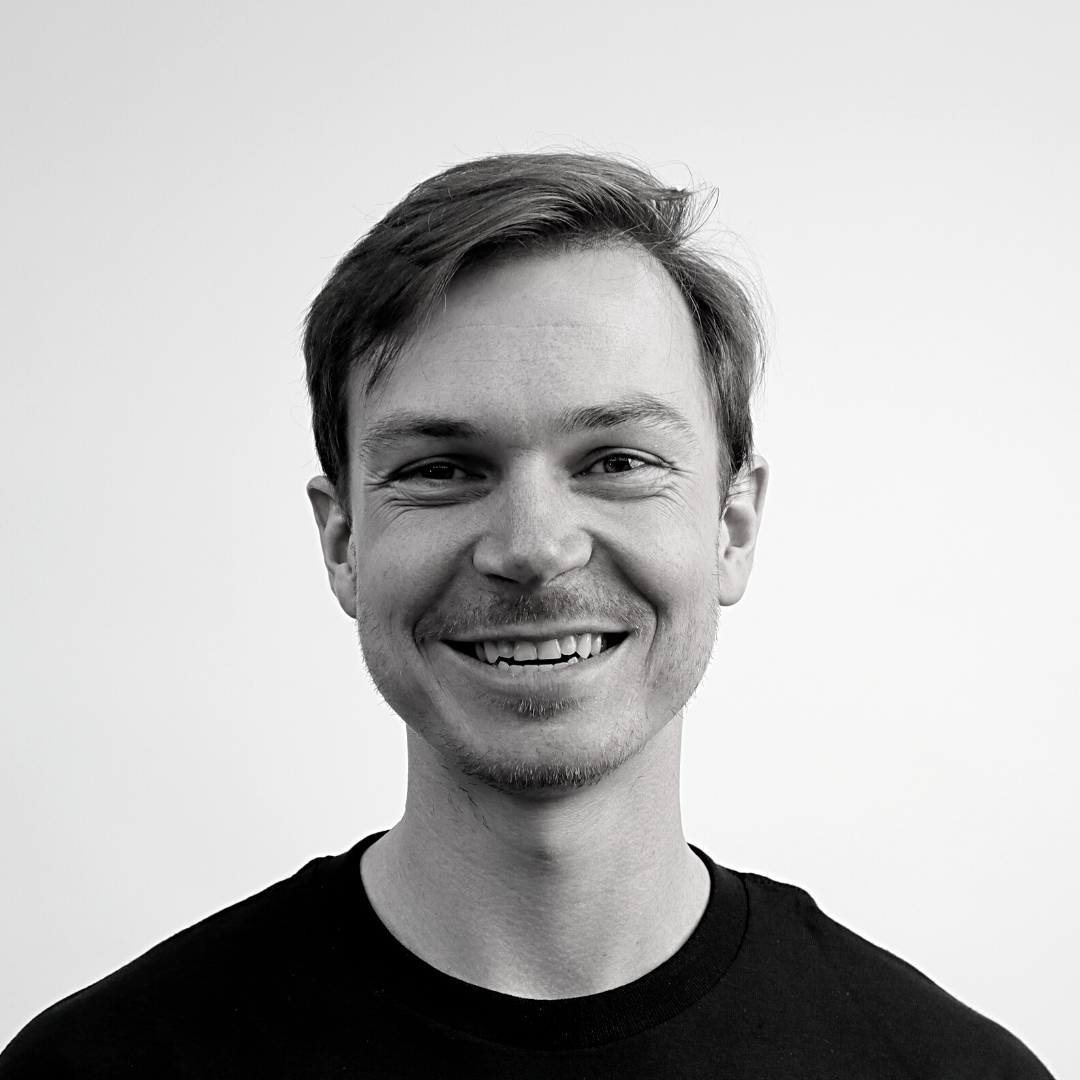 Andy Bridger
Cymbal Technician
Orion Choy
Cymbal Technician
Born and raised in Gilbert, AZ, Orion is an Arizona native. Pursuing a degree in computer science, Orion is currently enrolled at ASU as a full time student. Orion's marching experience includes Vision Percussion ('16-'18), Vanguard Cadets ('16-'17), and Santa Clara Vanguard ('18-'19). Orion has continued to contribute to the marching arts as an educator at various high-schools in the valley, as well as Vision Percussion.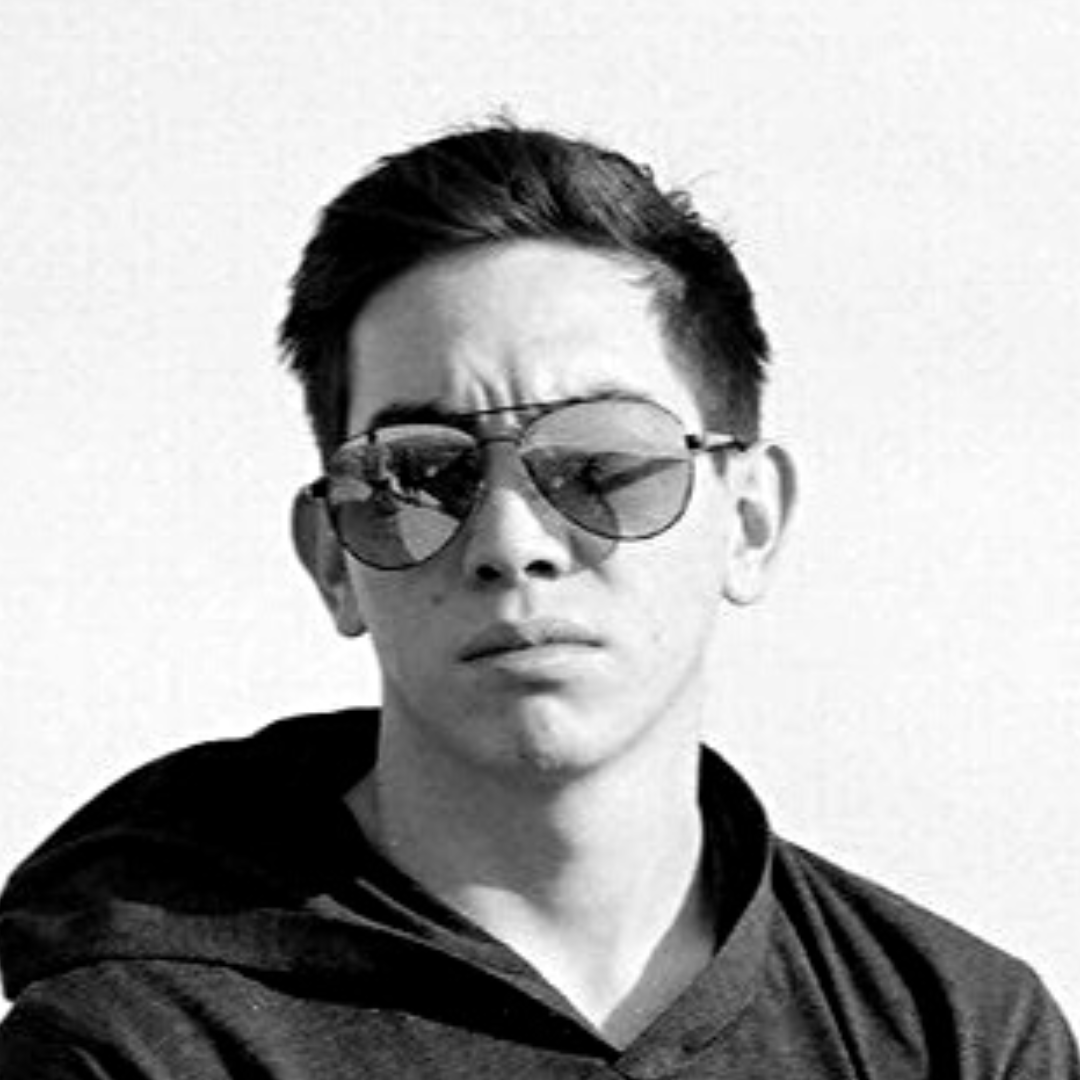 Orion Choy
Cymbal Technician
Cody Renouf
Cymbal Technician
Cody Renouf is a cymbal educator based in Sherwood, Oregon. With world class experience spanning back over a decade beginning his performance experience with the Seattle Cascades from 2011 and 2012, continuing on to march with The Academy for 2013 and aging out in 2014. Since then Cody has worked with the Seattle Cascades from 2016 – 2019, the Guardians Drum and Bugle Corps 2021, Impact Percussion 2022-2023 and Sherwood HS 2019 – 2023 including their recent gold medal in open class at WGI World Championships this past season. Cody is honored to be a part of bringing the Academy cymbal line back to the field for 2023.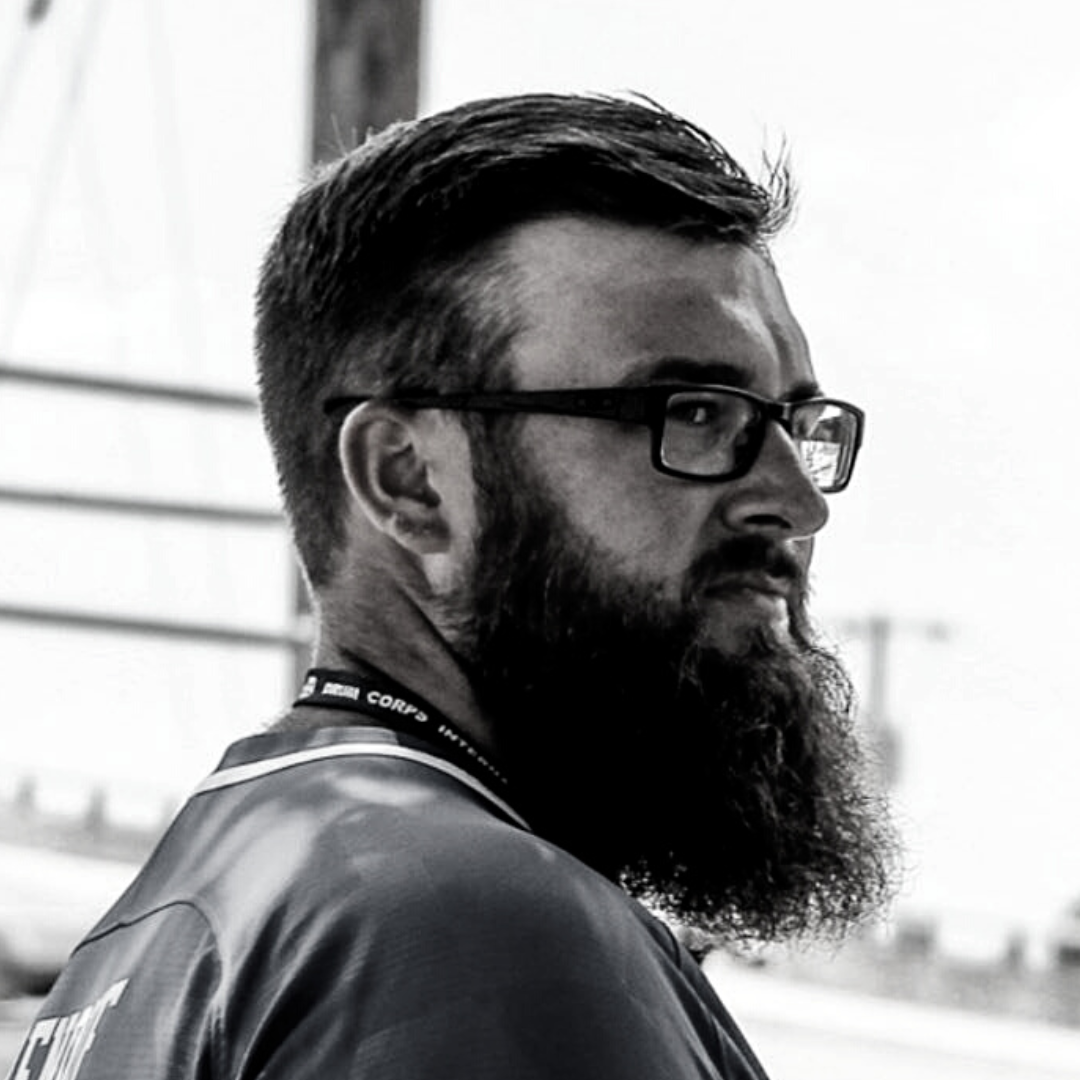 Cody Renouf
Cymbal Technician
Alicia Turner
Cymbal Technician
Alicia Turner is a California native who has relocated to Texas. She comes from a diverse marching background with extensive experience as an educator. She marched with Vanguard Cadets from 1999-2002 (front ensemble and low brass), Blue Knights 2004 (euphonium), and Santa Clara Vanguard 2005 in the cymbal line. She marched cymbals for 4 seasons in WGI PIW with RCC (2002 & 2006), and Black Knights (2003-2004). Alicia also performed with the RCC Marching Tigers band while studying music in college. In 2017 she was a member of cymbal line in the historic 50th Anniversary Santa Clara Vanguard Alumni Corps.
Her teaching experience includes drill design, visual/marching, front ensemble, battery, and cymbal instruction for many different high schools and independent groups in Southern California and Texas. She was a cymbal technician with Pulse Percussion for 2011-2013 (PIW), and also worked with the POW Percussion group in 2012 (PIW). She toured on staff with the Sacramento Mandarins for the 2017 summer season.
Alicia has been on staff with Monarch Independent since their charter season in 2015 and is currently teaching battery, designing, and writing drill and choreography for several competing programs in the greater Houston area. She is looking forward to the opportunity to work with the Academy cymbal line for the 2023 season.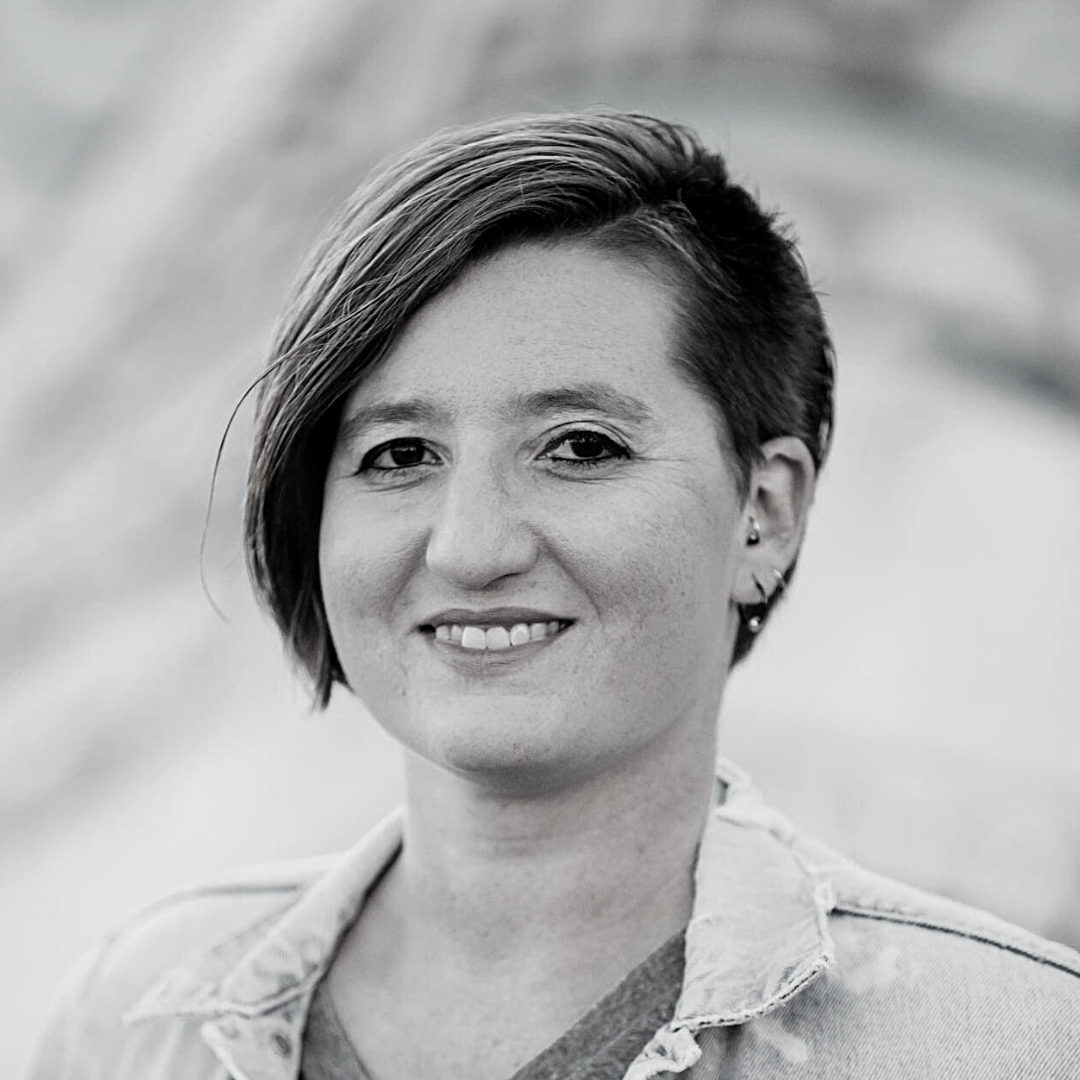 Alicia Turner
Cymbal Technician
Jesse Mack
Front Ensemble Technician
Jesse Mack is currently working as a percussion instructor and arranger for Lawrence Township in Indianapolis, Indiana. In the past, he has worked for the Greenfield Central Marching band and Indoor Percussion Ensemble in Greenfield, Indiana and the Union High School marching band and Indoor Drumline in Tulsa, Oklahoma as instructional staff. Jesse has been a consulting clinician for Blue Springs High School in Blue Springs, Missouri since 2017. He has been writing and arranging for Resonant Music Design (Dayton, Ohio) since 2019.
Jesse has several years of world class performance experience with ensembles such as the Madison Scouts, the Colts, the Bluecoats and Rhythm X (2014-2017). He graduated from Ball State University in 2018 with a degree in Music Education-Instrumental and General. During his time there, he performed with the Ball State Symphony Orchestra, Symphony Band, and Percussion Ensemble.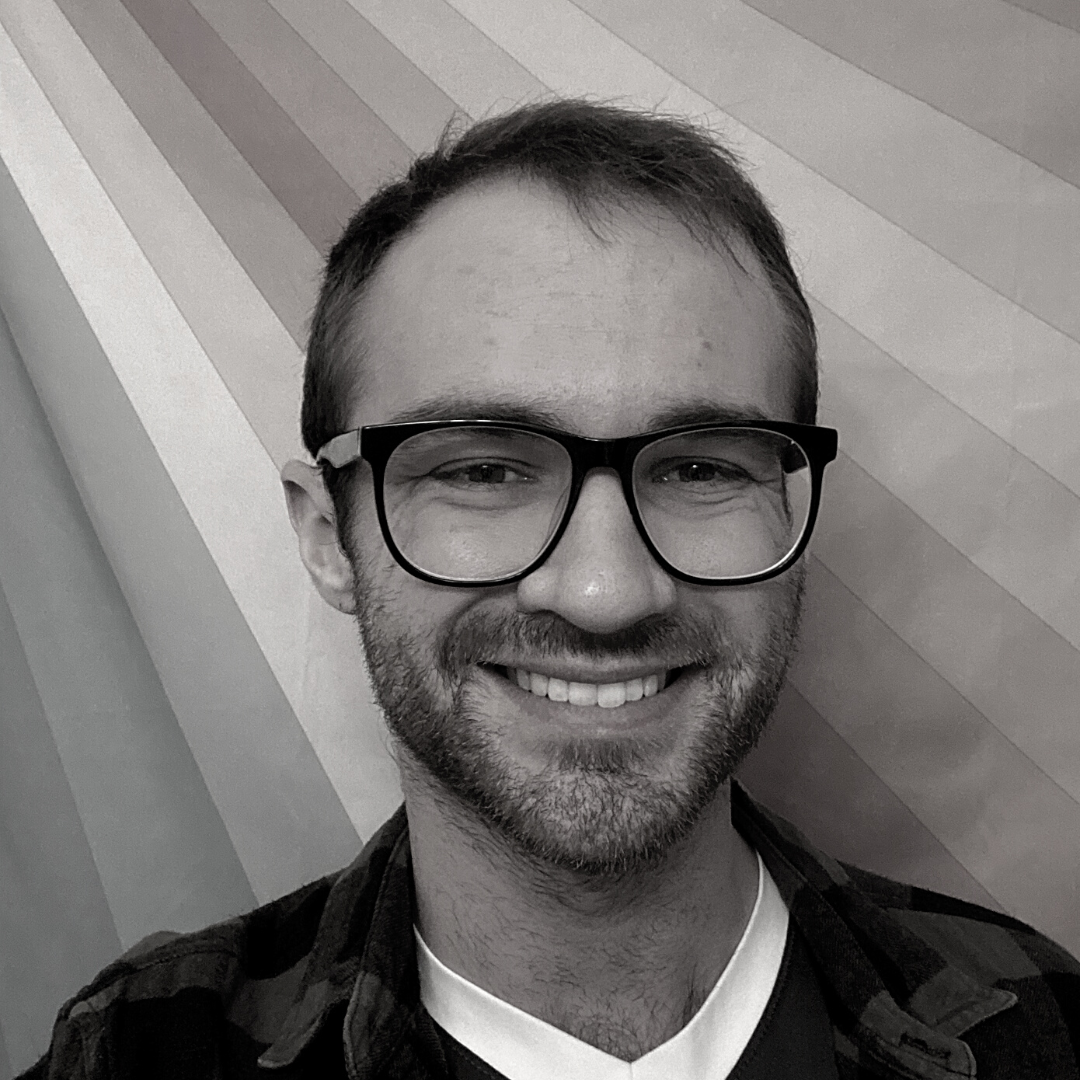 Jesse Mack
Front Ensemble Technician
Joel Montes
Front Ensemble Technician
Joel Montes will join the Academy as a front ensemble technician for the 2023 season. Montes is a band director for USD 313 Buhler Bands as well as an active musician in the Wichita Kansas area. His prior teaching experience includes USD 312 Haven Bands, USD 265 Goddard Bands, Corinth Holders – Johnston County Public School Bands, Railmen Indoor Percussion, Railmen Winter Winds, Resistance Indoor Percussion, the Battalion Drum and Bugle Corps, and the Cascades Drum and Bugle Corps. Montes was a member of the 2012, 2013 Troopers front ensemble. When he is not teaching or playing, Joel enjoys salsa dancing and anything related to his favorite animal; the North American Black Bear. Montes is excited to work with the incredible members, staff, administrators, and other team members of this spectacular organization!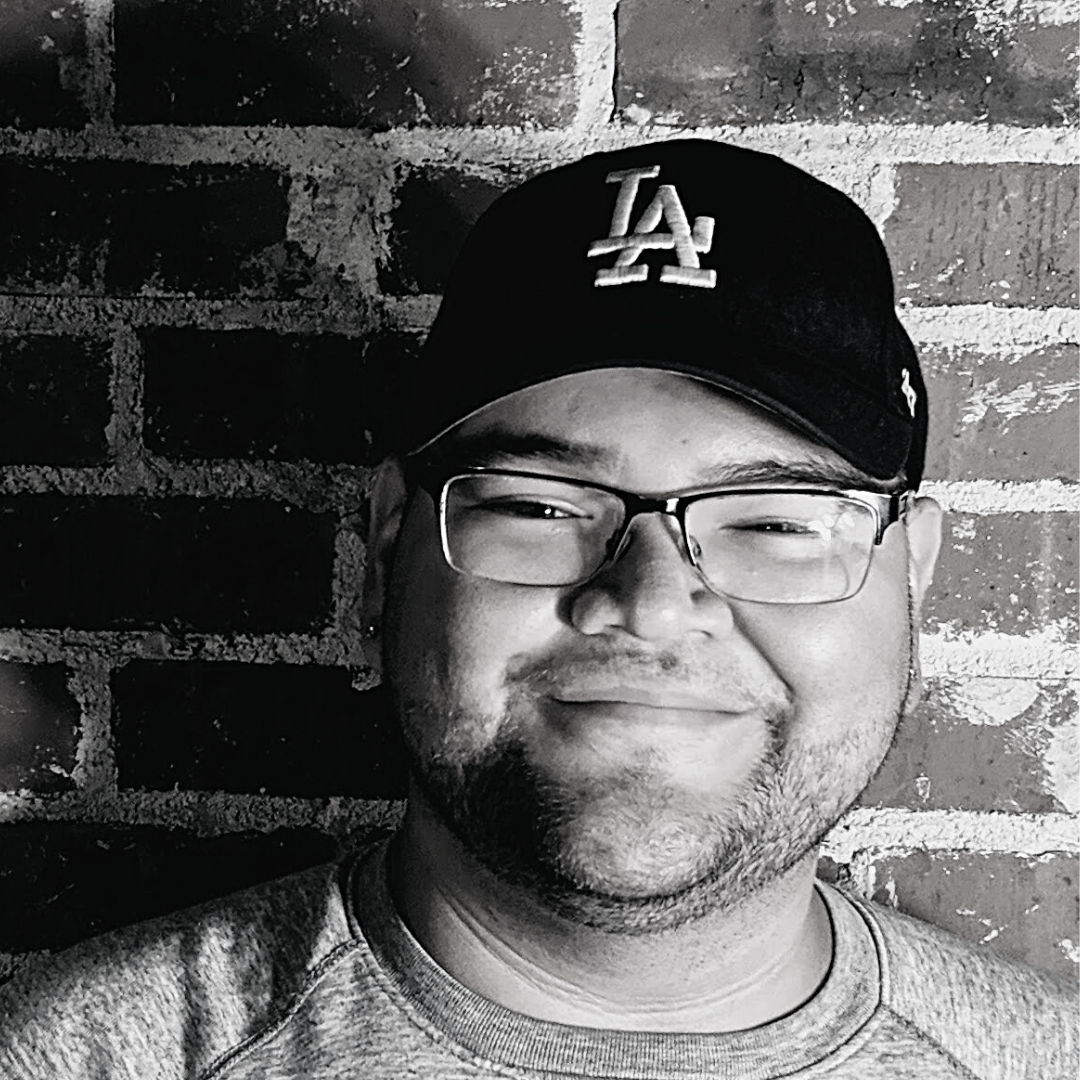 Joel Montes
Front Ensemble Technician
Mason Rhue
Front Ensemble Technician
Mason currently resides in Norman, OK where he is pursuing a PhD in Chemical Engineering at the University of Oklahoma. He conducts cutting edge research in carbon nanomaterials and polymer nanocomposites and is an active member of many professional organizations, including AIChE, ACS, and SPE. He previously earned his BS in Chemical Engineering (2020) also at the University of Oklahoma.
Mason's journey in music started at Broken Arrow High School (2012-2016) where he performed with the award-winning marching band, indoor percussion, wind ensemble, and percussion ensemble programs. Mason's independent performance experience includes three seasons with Resistance Indoor Percussion (2017, 2018, 2020) and a summer with the Blue Devils Drum and Bugle Corps (2018). Mason currently serves as a front ensemble instructor for Resistance Indoor Percussion and Broken Arrow High School. He previously served as a front ensemble instructor and concert percussion ensemble instructor at Carl Albert High School (2016-2020).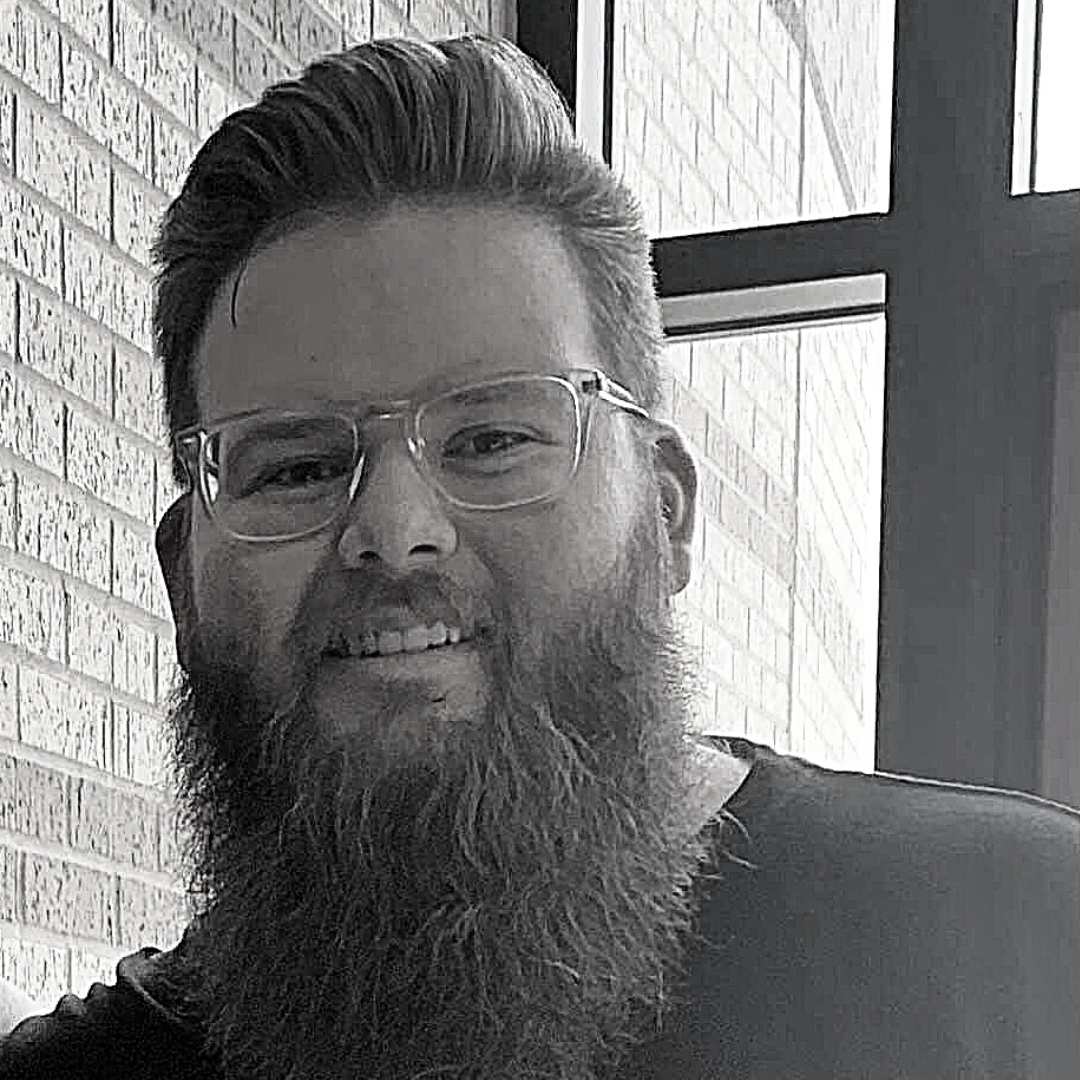 Mason Rhue
Front Ensemble Technician
Alex Salinas
Front Ensemble Technician
Alex is a marching percussion educator based in his hometown of Chicago, IL. He has taught at numerous programs in the Chicagoland and mid-Missouri areas including Rock Bridge HS, Kaneland HS, and Huntley HS. Currently, Alex serves on the marching percussion staff at Prospect HS in Mount Prospect, Illinois. In the WGI space, Alex has been a part of the education staff at Pi Percussion, a designer and director at Kaneland Winter Percussion, and was most recently the front ensemble coordinator at 202 Indoor Percussion. Alex spent last summer teaching at The Colt Cadets Drum and Bugle Corps. This will be Alex's first year with The Academy.
As a performer in the marching arts, Alex started with Green Thunder Percussion in the winters of 2010 and 2011. He then went on to march The Colts Drum and Bugle Corps in the summer of 2012 and was a member of Gateway Indoor Percussion in the winters of 2013, 2015, and 2016. Alex graduated from the University of Missouri with a degree in biomedical engineering and currently resides in the Chicago suburbs where he works as a research and development engineer. In his free time, he enjoys cooking, video production, playing marimba, and spending time with his cat, Mango.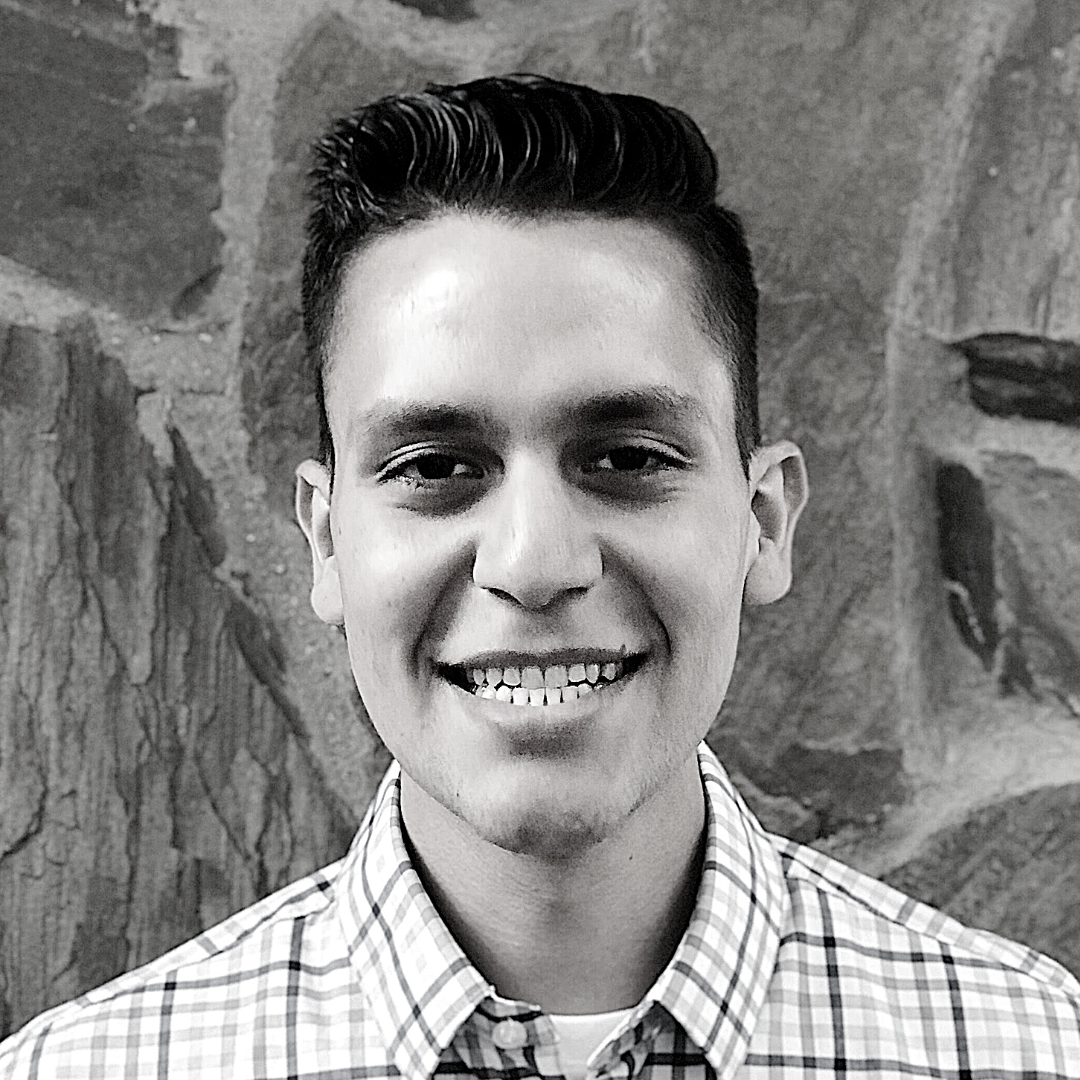 Alex Salinas
Front Ensemble Technician
Thomas Wharton
Front Ensemble Technician
Thomas Wharton is a percussion instructor and freelance music arranger from Michigan. He is currently the Percussion Caption Head of Lake Orion High School, Front Ensemble Caption Head of Redline Percussion, and Front Ensemble Coordinator of Dakota High School. Thomas has also done work with a handful of programs, including Apex Percussion, Ferndale HS, Lamphere HS, Plymouth Canton Educational Park, Hastings HS, Southgate Anderson, Cap City Percussion, among others.
Thomas also has an illustrious past as a performer in the marching arts, including Lake Orion High School, Northcoast Academy (2015-2017), The Cavaliers (2015), Carolina Crown (2016), and Cavaliers Indoor (2018). Thomas is forever grateful to the many wonderful people who have taught him at these organizations.
Thomas currently holds a BA in Philosophy from Oakland University. While at Oakland, he minored in music and performed with the Percussion Ensemble, Wind Symphony and Oakland Symphony Orchestra. Thomas is very excited to work with The Academy for the 2023 drum corps season!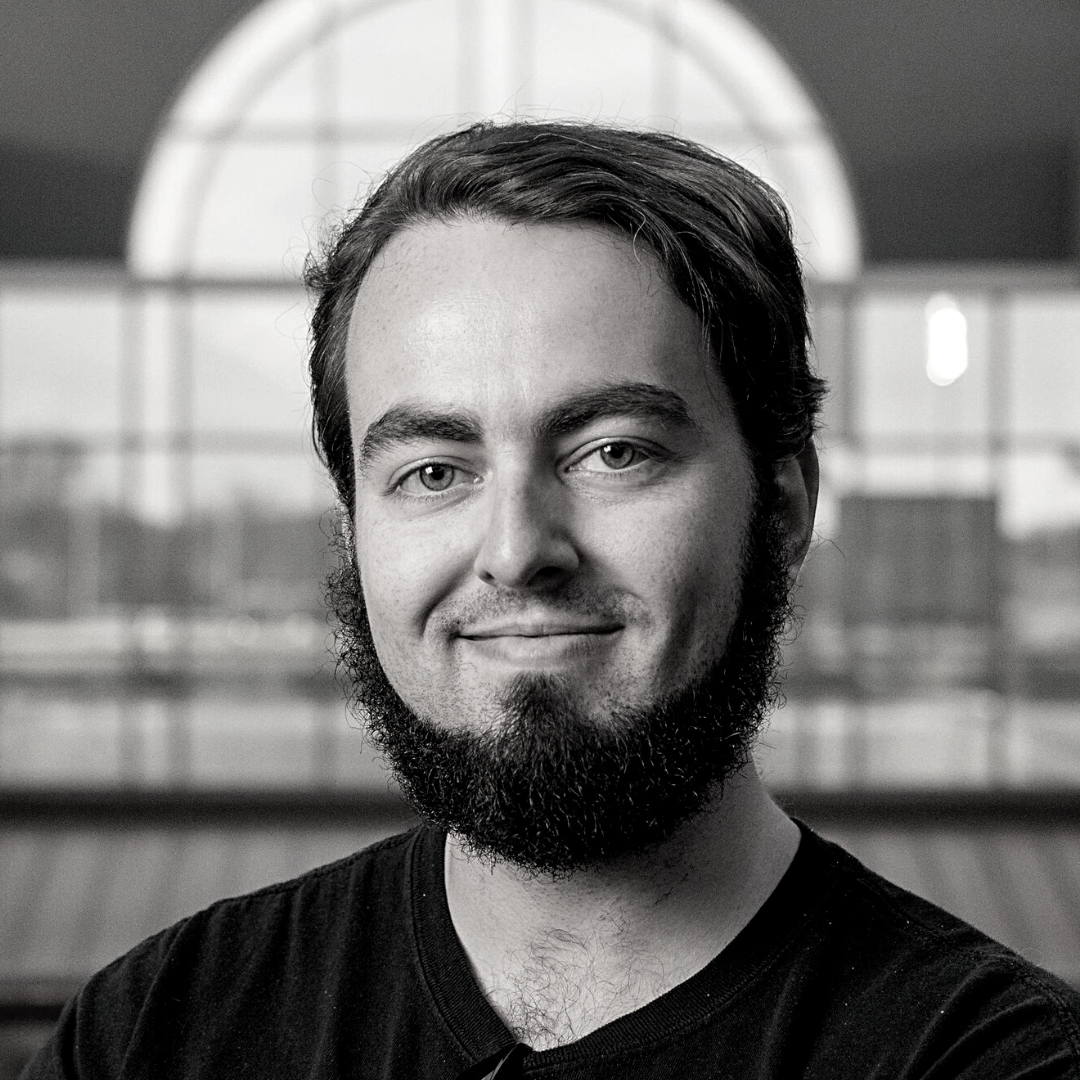 Thomas Wharton
Front Ensemble Technician
Percussion Auditions Continue
Round 2 of percussion auditions are held on January 13-15 in Phoenix, AZ.  Video auditions are ongoing.  Register for one of these audition opportunities to get your materials and take the first steps towards marching in 2023.  
Register to audition here
More info on 2023 Season Here